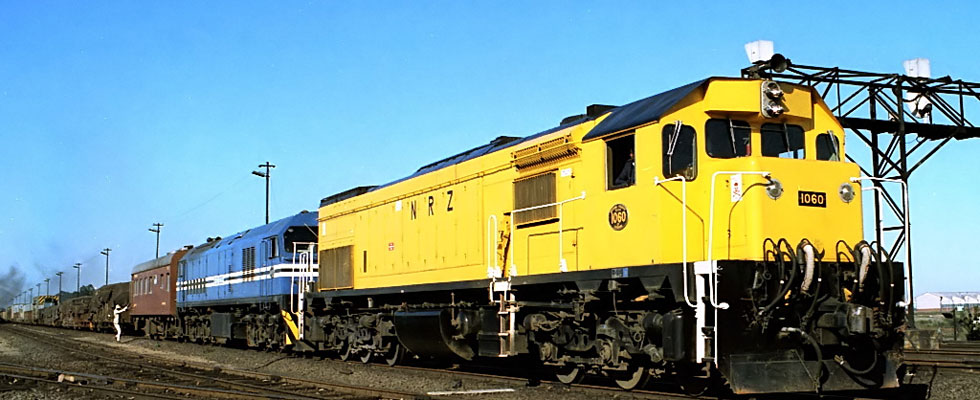 THE National Railways of Zimbabwe (NRZ) is on the verge of clinching a recapitalisation package with undisclosed investors amid promises by the government that the struggling parastatal will be back on its feet by the end of the year. MTHANDAZO NYONI
Transport and Infrastructural Development minister Obert Mpofu told a Zanu PF inter-provincial meeting on Saturday that the revival of the NRZ would start "in the next few weeks".
He said once the NRZ was back on track, the moribund Bulawayo economy would also be on the revival path.
"We envisage that once these engagements (with investors) are concluded, NRZ will again rise to its full potential," Mpofu said.
"In fact, negotiations have progressed well up to this point and we are looking to an agreement soon.
"The resuscitation of NRZ will entail additional downstream opportunities which our people can exploit."
The minister said the rail transporter at its peak employed over 8 000 people, but had since shed almost half of the jobs.
He blamed the opposition MDCs for the collapse of Bulawayo-based companies.
"MDC destroyed Bulawayo," Mpofu said. "The companies were closed by MDC because they wanted to profit from the people's suffering. "This is what our (party) leadership should be telling the people."
Mpofu said his ministry was playing a central role in the implementation of the government's economic blueprint – Zimbabwe Agenda for Sustainable Socio-Economic Transformation (ZimAsset) – and Matabeleland would benefit from a number of infrastructural development projects.
He said these included the upgrading of the Bulawayo-Victoria Falls and Bulawayo-Nkayi roads through build, operate and transfer (BOT) arrangements.
"On road construction and rehabilitation, construction and management of road tollgate plazas, the ministry, informed by the ZimAsset, has rolled out a road construction programme through a public tender system on a BOT management," he said.
"In total, there are 16 projects which include some of the following: Bulawayo-Nkayi Road, Bulawayo-Lupane Road, Bulawayo-Tsholotsho Road, Beitbridge-Bulawayo-Victoria Falls Road and Kwekwe-Nkayi Road.
"The success of these projects is dependent on whether there is an interested investor on a particular project.
"We have also made it clear that once the projects get underway, locals must be given preference of employment."
He said the Zimbabwe National Road Authority envisaged building more toll plazas and toll fees would be increased as they were too low to fund road construction.
"We are not even collecting $40 million from the tollgates a year, which is not enough to tar a 20km stretch of a road," Mpofu said.
"A lot of people are criticising me for proposing a toll fee increase and the setting up of tollgates in urban areas, but there is nothing to worry about when you know that you are doing the right thing."
The meeting was attended by several ministers that included Saviour Kasukuwere (Environment, Water and Climate), Sithembiso Nyoni (Small-to-Medium Enterprises), Douglas Mombeshora (Lands and Rural Resettlement) and Simon Khaya Moyo (Senior Minister.)