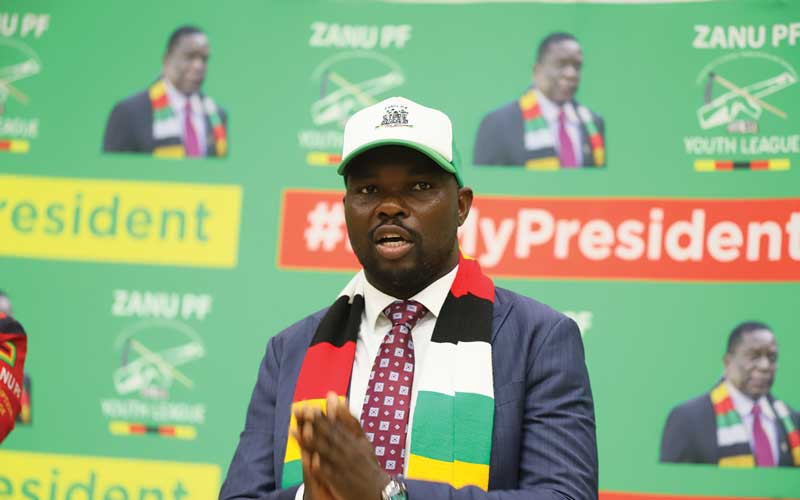 ZANU PF youth leader Tino Machakaire yesterday read the riot act on party youths who use President Emmerson Mnangagwa's name to engage in criminal activities and warned that they would face the might of the law.
Speaking at the national youth league executive meeting in Harare, Machakaire said indiscipline had gone out of hand and that some of the youths were committing crimes in the name of the party.
"Every member of the party should toe the line of the party. Indiscipline in the name of name-dropping should stop. We should stop using names of senior party leaders for our selfish gains," he said.
Machakaire urged Zanu PF youth leaders to shun corruption.
"We have incidences where people soil the name of the party through corruption. Others have become land barons. This should stop because we are soiling the image of Zanu PF. If you commit a crime in the name of Zanu PF, you will face the music alone," he said.
The Hwedza South legislator also called on party youths to shun violence in the upcoming general elections.
"The President has been clear on the issue of violence, we say no to violence. We should come up with strategies to mobilise and win elections."
Meanwhile, Zanu PF national spokesperson Christopher Mutsvangwa said the ruling party would shock the opposition in urban centres.
For the past 20 years, people in urban centres have been voting for the opposition party.
Mutsvangwa said the investment drive which has been spearheaded by Mnangagwa and Zanu PF tactics would deliver some of the seats to the ruling party.
"The 2023 election will deliver a knockout to the opposition because Zanu PF has been stronger since Operation Restore Legacy (the period when former leader, the late Robert Mugabe was ousted from power). We are more than prepared to campaign for our President, Mnangagwa who has been working tirelessly to improve the lives of Zimbabweans," he said.
"Since coming into power, President Mnangagwa has overseen a lot of development in infrastructure, investments and other areas. The 2023 election is a foregone conclusion, we are going to win.
"The rural population has supported us since the time of the liberation struggle. However, we have also put measures in place to grab some of the seats in urban areas."
Related Topics