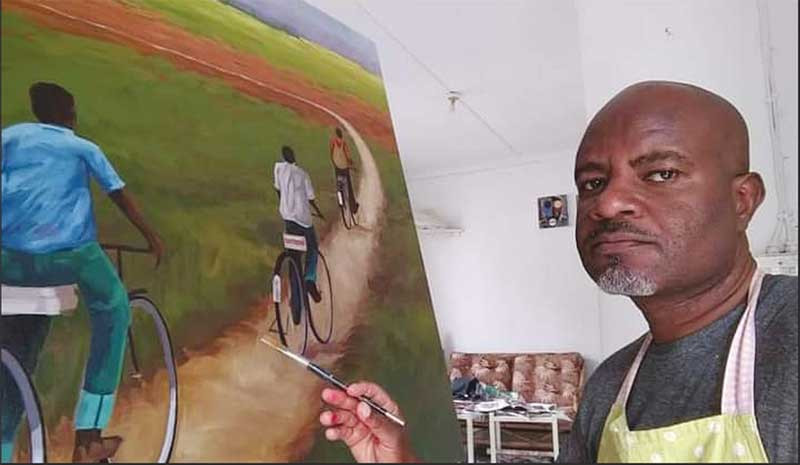 BORN on August 2 1974, Batsirai Muskwe is a self-taught artist whose passion for art (painting) developed after he studied art as a subject at Lord Malvern High School in the capital.
Just after his secondary school, Muskwe then decided to follow his passion using the National Art Gallery facilities including the library to conduct research on painting.
During the same period, he met Chenjerai Chiripanyanga, who was into sculpting, and joined him to acquire the much-needed experience in the world of art.
In 1995, Muskwe decided to make a shift from sculpting to painting and a year later he started to exhibit his works, marking the start of his professional journey in the world of art.
NewsDay Weekender caught up with Muskwe, who shared his painting journey, including some challenges related to the profession.
Choosing painting over sculpting
I like painting, it has different techniques and lots of colour that helps me express how I feel in contrast to something like stone art that can just be one media and probably one colour and you cannot do much with stone.
With painting I can do a lot including 3-dimensional, 2-dimensional work and I can as well add various colours.
For me, I also feel that through painting I can put textures and bring things out of canvas more than any other media and that's why I chose to do painting particularly.
Painting style
Through my paintings, I can say I am someone who is like a social commentator. I paint things that are around me.
I also usually use African masks coming from the Shona sculptures, west African art and most African art where people use masks for either ceremonies or just making artifacts.
My style is kind of a contemporary African art that incorporates the African style which is the African masks in a contemporary manner.
Instruments
I use a lot of instruments which include canvas, paper, and board. Currently, I am working using mostly acrylic paint, oil paint as well as water colour.
I also do screen printing and other art related techniques which include the graphical part of art.
So mostly it is just the brushes, paint and rollers just to bring out a nice work. I try to create something in-depth in my work so that it really feels like it is something which is alive and not just merely art.
I do not just use one technique, but I fuse more techniques on my paintings. I also use charcoal depending on what I want to express.
Livelihood out of painting
Painting has contributed greatly to my life because it is something that I have been doing since 1995. This is about 27 years now.
All the things I have now and everything going on around me have come through my artwork.
Appreciation of the paintings
I have seen people appreciating my work, be it at exhibitions, on social media and various places where my work is sold.
Some banks also purchase my work to put on their walls. I also get some commissions to conduct work in various places like restaurants as well as people's
homes.
I also get people referred to me by others whom I would have done paintings for.
Working environment
I do most of my work at home where I have a small studio and sometimes I travel if there is need for that.
I can work at any place where there is a studio, but basically I do most of my paintings from home.
Desires
I wish if my artifacts can be viewed by many people, the more people view that is how I also get noticed.
To be recognised just like the performing artistes is also another wish, I see there is less recognition of the visual artists.
You would see that performing artistes can be invited for different functions, but very few of that happens with visual artists.
Challenges
There are quite a number of challenges, starting from my early years. Art materials are very expensive and getting these materials has been a challenge.
When I was starting as a young artist and even up to now, it is still a difficulty because of the economy.
We also do not have people who are producing paints, we rely on imports and this is a big opportunity to acquire the proper type you would really want to use.
Also due to economic hardships, art is getting less attention. So I think there is a need to teach our fellow brothers and sisters as well as families to embrace art and understand the value it holds.
Follow Chiedza on Twitter @ChiedzaMazhang1
Related Topics