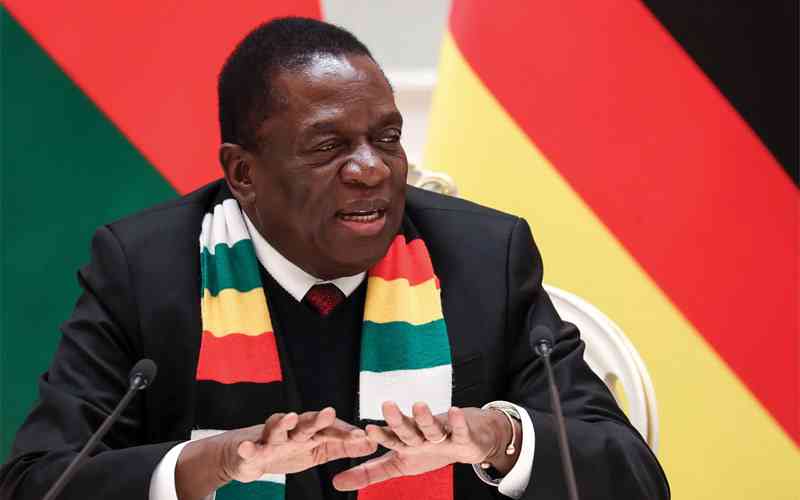 FALSEHOODS by President Emmerson Mnangagwa's lieutenants have been laid bare after officials from the National Prosecuting Authority of Zimbabwe (NPAZ) hauled a man to appear in court and stand trial for allegedly criticising the ruling Zanu PF party leader for boasting that Zimbabwe had the strongest currency in the Sadc region.
Mnangagwa's lieutenants had in October misrepresented before the African Commission on Human and Peoples' Rights (ACHPR) during its 73rd ordinary session held in Banjul, The Gambia, that freedom of expression is guaranteed in Zimbabwe and that no-one had been arrested for criticising government or practising journalism.
The claims by government representatives before ACHPR commissioners and some delegates attending the ACHPR session was in response to submissions by Zimbabwe Lawyers for Human Rights (ZLHR) and other regional and international civic society organisations, which faulted Mnangagwa's administration for failing to guarantee freedom after expression for ordinary citizens.
Now, the NPAZ on Wednesday November 9, 2022 hauled 43-year-old Robert Zakeyo of Rushinga, Mashonaland Central province, to stand trial at Bindura Magistrates Court on a charge of contravening section 33(2)(b) of the Criminal Law (Codification and Reform) Act.
The trial of Zakeyo, who is represented by Gift Mtisi of ZLHR, came after NPA Acting Prosecutor-General Nelson Mutsonziwa, issued a certificate of authority to prosecute, leading to the Rushinga man being summoned to stand trial.
Zakeyo, who is an entrepreneur at Rushinga business centre and who had been out of prison custody on bail and after he had also been removed from remand, was arrested on May 3, 2020 after he was accused of posting a video clip on May 1, 2020 on a WhatsApp group called Rushinga Residents of President Mnangagwa issuing a Press statement in relation to the strength of the local bond notes currency.
Prosecutors claimed that in the same video clip, there also appeared a lady who was dressed in opposition MDC Alliance party regalia uttering unprintable words purporting as if the lady was rubbishing Mnangagwa's sentiments on the competitiveness of Zimbabwe's currency.
This reportedly incensed Author Chinyoka, the acting co-ordinator for the ruling Zanu PF party in Rushinga, who is the complainant in the matter, after he came across the messages, while browsing through Rushinga Residents WhatsApp group.
Zakeyo returns to court on November 29, 2022 after Bindura magistrate Shingirai Mutiro postponed his trial, which could not commence, as he was overwhelmed with other cases. -ZLHR
At the risk of sounding self-righteous
AN unjustly erroneous perception persists of migrants and even refugees basically willfully/contently becoming permanent financial/resource burdens on their host nations. There is so much unwarranted contempt for these people, yet so many are rightfully despondent, perhaps enough so to work very hard in cashless exchange for basic food and shelter.
I would ask their critics if the latter would not help a freezing and/or drowning person into their lifeboat if there was the least bit of room to spare? Often conveniently ignored is the fact that many migrants are fleeing global-warming-related extreme weather events and chronic crop failures in the southern hemisphere widely believed to be related to the northern hemisphere's chronic fossil-fuel burning, beginning with the Industrial Revolution. If they feel they must, the critics should get angry at the politicians who supposedly allow in "too many" migrants; please do not criticise the desperate people for doing what we would all likely do if in their dreadful position. And what ever happened to our self-professed Christian charity and compassion, anyway? -Frank Sterle Jr.
#COP27: A defining moment in climate action
THE Climate Change Conference is a global summit on climate change, also popularly known as Conference of the Parties, is conducted by United Nations Framework Convention on Climate Change (UNFCCC) parties, an international treaty whose aim is to avert dangerous human interference with the climate system by stabilising greenhouse gas emissions. This year marks the 27th United Nations Climate Change Conference hence COP27.
For Africa, the 27th climate change conference is a special one as it is being hosted in Sharm EI Sheikh, Egypt. It's a two-week long summit which has been running from November 6 to 18, 2022. More than 90 heads of State and representatives from 190 nations are in attendance. The Climate Change Conference was established in 1992 following the United Nations Climate Agreement which was subsequently used by governments to agree on climate change mitigation and adaptation policies.
According to the United Nations, climate change refers to long-term temperature modifications and change in weather patterns. These changes may be natural; for example, through variations in solar cycle. However, it is important to note that since the 1800s, human activities have been the main contributors of climate change, largely caused by burning fossil fuels like coal, oil and gas. Burning fossil fuels produces greenhouse gas emissions that takes a form of a blanket covering the earth, which then traps the sun's heat and causes a raise in temperature. Greenhouse emissions that contribute to climate change include carbon dioxide and methane. These emit from cars, coal, burning of forests etc. Another major source of methane emissions are landfills for garbage. The main emitting sectors include energy, industry, transport, buildings, agriculture and land use. Emissions that cause climate change are not from one part of the globe, however, some countries are producing more compared to other countries.
Three percent of total emissions are produced by the 100 least-emitting countries, while 68% is produced by a small number of only 10 countries.
This then points to the discussions of climate financing whereby governments have agreed that the countries contributing more to global warming have the biggest responsibility to provide financing for the developing countries to cope with climate change effects. When African governments receive disaster packages, there is no transparency and accountability of the funds. -Zimbabwe Coalition on Debt and Development
Related Topics