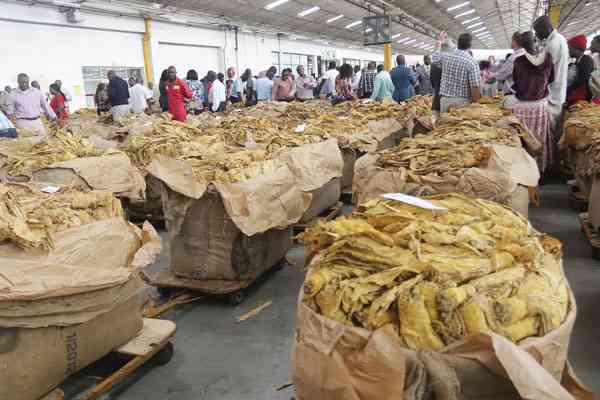 A TOTAL of 17 million kilogrammes (kg) of tobacco worth US$50,9 million had been sold on the country's auction and contract floors as of Friday last week, according to the Tobacco Industry Marketing Board (TIMB).
The numbers, however, are modest when compared to what was accomplished during the same period last season.
Last year, 21,9 million kg of the golden leaf worth US$62,1 million were traded during the same period. Volumes and value decreased by 22% and 18%, respectively.
In contrast, prices jumped by an average of 4,72% to US$2,97 per kg compared to the previous season. Prices were US$3 per kg on the contract floor and US$2,79 at the auction floors.
Zimbabwe produced 211 million kg of tobacco in 2021 and 212 million kg in 2022. This year, the country projects to produce 300 million kg.
TIMB chairperson Patrick Devenish recently said the industry, together with the central bank, had jointly put in place improved payment measures to ensure tobacco growers get full value for their crop and are paid within the shortest possible time.
To enforce this, he said they stood guided by the contractors' compliance administration framework.
"All tobacco merchants and contractors have signed it and have been made aware that they are supposed to pay growers within 48 hours of sale completion. Failure to do so will be met by stiff penalties, suspension, or cancellation of operating licences. Therefore, we encourage tobacco growers to notify TIMB if they are not paid within 48 hours," he said.
During the 2022/23 tobacco production season, there are 148 527 growers doing 117 928 hectares of tobacco as compared to 110 155 hectares of tobacco and 122 841 growers.
He said their crop assessment exercise revealed that the country could produce 230 million kg of the golden leaf this season.
To off take this tobacco, the board has licensed two auction floors and these are Tobacco Sales Floor and Premier Tobacco Auction Floor. The board also licensed 25 "A" Class buyers and 32 contracting companies.
Sales are being conducted in Harare as well as five decentralised centres which are Karoi, Mvurwi, Bindura, Marondera and Rusape.
Devenish said some growers had outstanding debts to contracting companies as well as TIMB for the tobacco inputs credit scheme from the previous seasons.
Related Topics