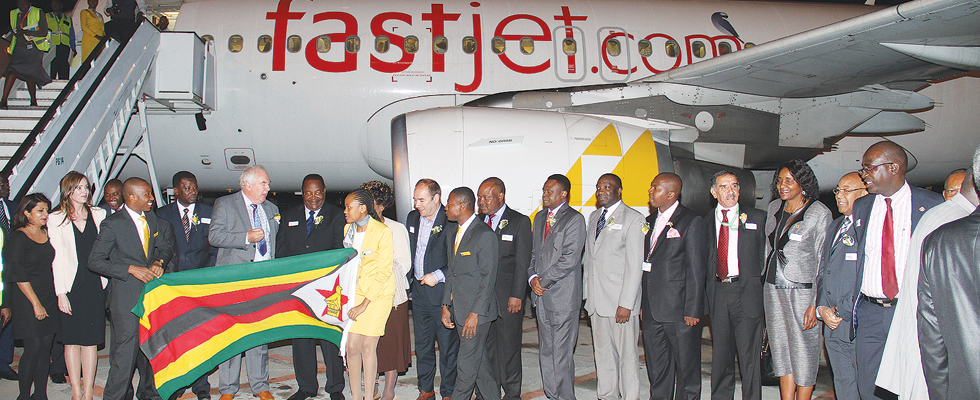 TANZANIA-BASED budget carrier, Fastjet, will today introduce its third weekly flight between Harare and Dar es Salaam to meet the increased demand for the service.
TARISAI MANDIZHA
In June, Fastjet introduced its first two flights to Harare on Tuesdays and Thursdays.
Speaking at the inaugural ceremony of the Fastjet direct flight from Dar es Salaam to Harare on Tuesday, Fastjet chief executive officer and interim chairperson Ed Winter said the low-cost airline was the only direct air link between the two African capitals and the response from the Zimbabwean customers so far had been overwhelming with the first few flights almost sold out.
"I am pleased to announce that a third weekly flight operating on Thursdays will go on sale tomorrow [Wednesday]. That means that Fastjet will operate on Tuesdays, Thursdays and Saturdays. Clearly as demand grows, we will satisfy that demand by adding more flights and see no reason why this route cannot reach a daily frequency quickly," Winter said.
He said the fares for customers booking early start from just $50 plus government taxes for one rising to more than $200 plus government taxes for late bookings.
He said in the 20 months of operation in Tanzania, Fastjet had flown almost 700 000 passengers, achieved 95% punctuality and had minimal cancellations.
He, however, said in the first six months 38% of the passengers were first-time flyers and the company was expecting to see similar numbers of new flyers on the Harare route.
"This has really demonstrated how the Fastjet low-cost model can stimulate the market, democratising air travel by bringing reliable and reasonable priced air travel options to the customer. Affordable air travel is absolutely key to the growth of economies across Africa," he said.
Speaking at the same event, Transport and Infrastructural Development minister Obert Mpofu said Fastjet's entry into Zimbabwe demonstrated the ministry's ongoing commitment to improve the country's aviation industry.
He said the ministry would look forward to continuing the discussions with Fastjet regarding the airline's further expansion in Zimbabwe.
"The government of Zimbabwe is delighted that Fastjet is expanding its international route network to include Harare and that in doing so it is bringing its low-cost, reliable and safe service to the people of Zimbabwe," Mpofu said.
He said the initiative would go a long way in increasing connectivity and would also improve trade between the two countries.
He, however, urged Fastjet to take advantage of another opportunity to introduce direct flights to Victoria Falls from Mount Kilimanjaro in Tanzania.
The Ambassador of Tanzania to Zimbabwe Adadi Rajabu said Fastjet's entry into Zimbabwe was another move to consolidate air connectivity in the region and in particular it would connect directly Zimbabwe and Tanzania.
"We believe this bilateral air connectivity between Zimbabwe and Tanzania will have magnified effects to neighbouring countries. "However, we know for sure that Africa trades little to itself than to other continents.
"Thus Fastjet, with a commencement of direct flight, we strongly believe that it will minimise the transport stop-over, immigration desks, custom clearances and infrastructure mystery with an impact to time reduction and further to improve bilateral trade between Zimbabwe and Tanzania," Rajabu said.
Fastjet becomes the 17th carrier to fly into the country, a move that improves the country's accessibility and tourist arrivals.