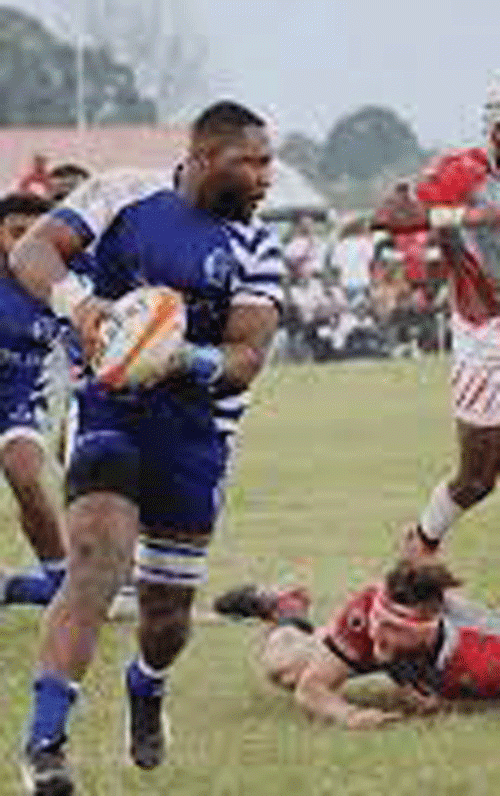 SOUTH AFRICA-BASED Zimbabwean rugby player Hilton Kamanda has completed a breakthrough move to Currie Cup side South Western District (SWD) Eagles following some impressive performances at the top Cape Town-based club Progress RFC.
The 29-year-old Mufakose-bred star, who plays lock as well as loosefoward, joins the team ahead of the new season, where they are competing in the Currie Cup First Division.
Kamanda was recently invited to play for SWD Eagles in a high-profile preseason friendly match against the top South African side DHL Stormers at Outeniqua Park in George.
Although Kamanda's side was on the losing end against Stormers, the Zimbabwean did well enough to convince the officials at SWD Eagles to offer him a contract ahead of the new season.
"Hilton took his opportunity in our match against the DHL Stormers. His step into our professional group is proof that there are pathways from club to union and that our club structures are producing quality players. His transition throughout preseason will be monitored closely as we look to work on his impressive explosiveness and ball carrying skill sets," SWD Eagles said in a statement yesterday.
The hardworking Kamanda, who played for Mufakose Swallows and Harare Sports Club on the local rugby circuit, is a strong ball carrier and a monster at the breakdown.
He put pen to paper on his contract with SWD Eagles on Tuesday and is excited to take the next step in his career.
"I signed my contract with SWD Eagles today and I'm very happy and excited for this opportunity," Kamanda told NewsDay Sport in an interview on Tuesday.
"It's an exciting journey for me and a learning experience. It was not an easy road though, there was a lot of hard work and sacrifices and I want to thank God for making my dream of playing at a high level of rugby here in South Africa a reality."
The former Mufakose High 1 student says he will not be resting on his laurels after his big move and aims to continue working hard to ensure he continues to earn his spot in the team.
"It's not easy going to a foreign land trying to make it big, so it is an honour for me that I have earned this contract. Now I'm aiming for higher goals to stay in shape and to perform to the best of my abilities and be able to stay consistent in this top league. This will require more sacrifice because there are a lot of experienced players that I'll competing with," he said.
SWD Eagles, who play out of Outeniqua Park in George, Western Cape, reached the semi-finals of the 2022 Currie Cup First Division early this year, where they eventually lost 26-12 against the subsequent losing finalists Eastern Province.
On their way to the semis, SWD Eagles dispatched the Zimbabwe Goshawks 48-0 in during the round-robin phase of the competition on May 28.
lFollow Daniel on Twitter @danielnhakaniso
Related Topics