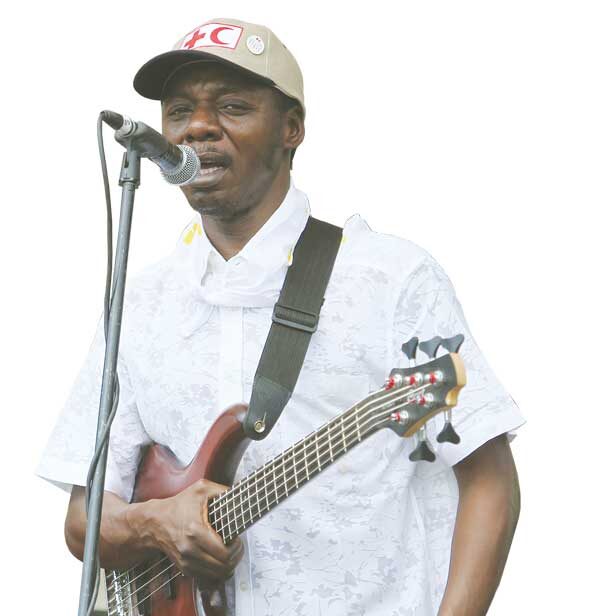 BY WINSTONE ANTONIO FINALLY, sungura fans will have something to cheer about this Friday, having endured four years of waiting for a new album from the undisputed genre's king, Alick "Extra Basso" Macheso.
After years of hard work and starving his fans of new music for such a long period, Macheso has decided to finally let the cat out of the bag.
No doubt, Friday is set to be a night to remember as Macheso unveils at Aquatic Complex in Chitungwiza his much-awaited six-track album, Tinosvitswa Nashe (God will get us there).
It will be a double celebration for both fans and the Sungura doyen as he turns 54.
Baba Sharo, as he is fondly known by his legion of fans, was born on June 10, 1968 at Bindura Hospital.
NewsDay Life & Style wishes him a happy birthday and many more years to come.
May he remain humble as always.
Ever since he formed Orchestra Mberikwazvo in 1997 after parting ways with his long-time mentor Nicholas Zakaria, Baba Sharo has never been known for being pompous which has endeared him to many.
Despite being a highly-rated artiste, given his proficiency in dancing, singing and playing the guitar, Macheso has proven to be a down-to-earth artiste who mingles well with his fans.
This is something that many artistes across genres have failed to accomplish as fame appears to sink into their heads and at the end ruining their careers.
Also, Macheso has not been carried away by his ability to compose songs laden with social commentary, messages that have seen him continuing to win the hearts of many music followers.
No doubt, it is through such humility that Macheso has managed to command a huge following with his music that knows no boundary and cuts across all age groups.
This has resulted in him dominating the local music scene, particularly sungura, for decades and became a torch-bearer who has attracted many copycats.
The album launch will mark the 24th anniversary of the Orchestra Mberikwazvo band.
It seems the month of June holds special memories for Macheso and his fans.
Macheso had really starved his fans, having last released his last album, Dzinosvitsa Kure, in 2018.
Interestingly, as history repeats itself, the album Dzinosvitsa Kure was also launched on a Friday at the same venue.
Initially, Macheso was expected to release the new album in December 2020, but due to COVID-19 restrictions, he opted to release a single Zuro Ndizuro as a teaser.
It was a first for the Orchestra Mberikwazvo band leader to release a single.
Before releasing the latest offering, Macheso has been playing snippets from the forthcoming album during his live shows and has also teased the fans on his social media pages.
Through this much-awaited album, brewed at his Alema Studios in Chitungwiza with the midas touch of veteran producer Bothwell Nyamhondera together with engineer Arron Tom, will Macheso continue to hold his past glory as the sungura king?
Only the fans will tell after the launch as Macheso himself once sang on one of his songs Charakupa, off Zvido Zvenyu Kunyanya album, that: "…isu hazvisi zvedu, chedu kubvonga chete, kana tabvonga togadzika vanodya vodya, kushata kana nhapitapi vachadudzira ivo (we do not judge our works, but we leave it to the audience to give the verdict.)"
As Macheso launches this album, no doubt his camp would not want a 2016 repeat where pirates hit hard on him when the album Tsoka Dzerwendo found itself on the streets of Harare selling like hot cakes before the official launch.
Sadly, this deprived him of potential revenue from copy sales.
In an interview with NewsDay Life & Style yesterday, Macheso's publicist, Tich Makahamadze said all was set for the launch, urging fans to shun piracy by buying original CDs.
"Aquatic Complex in Chitungwiza is the place to be this Friday, it is the home of the Orchestra Mberikwazvo as we launch Tinosvitswa Nashe, also celebrate Baba Sharo's birthday as well as the band's 24th anniversary," he said.
"For the album Tinosvitswa Nashe, I believe we have done our part in the studio and we only wait for the big day for our fans to have the meal on the table we have taken time to prepare for them.
"I believe they are going to enjoy the music as we took our time to compose bearing in mind the demands and expectations of our supportive fans."
Makahamadze added that those attending their Executive Night Out Dinner concert tomorrow at Rainbow Towers Hotel's VIP Lounge in Harare might be lucky to dance to the new songs before the Friday launch.
At the potentially explosive launch, Macheso will be supported by his mentor Nicholas Zakaria, Zora singer Leonard Zhakata, dendera ace Sulumani Chimbetu, dancehall chanter Freeman whom he collaborated with on Ngaibake, songbird Selmor Mtukudzi, Andy Muridzo and Baba Harare.
Since he released his debut album, Magariro in 1998, Macheso has not looked back as he has produced a sequel of hit albums that have transformed him into a household name.
His other albums are Magariro, Vakiridzo, Simbaradzo, Zvakanaka Zvakadaro, Zvido Zvenyu Kunyanya, Vapupuri Pupurai, Ndezvashe, Kwatakabva Mitunhu (Kure Kwekure), Zvinoda Kutendwa, Tsoka Dzerwendo and Dzinosvitsa Kure.
With such a rich discography, Macheso has proved that he is indeed the "King of sungura", a beat that has stood the test of time.
Follow Winstone onTwitter @widzoanto
Related Topics