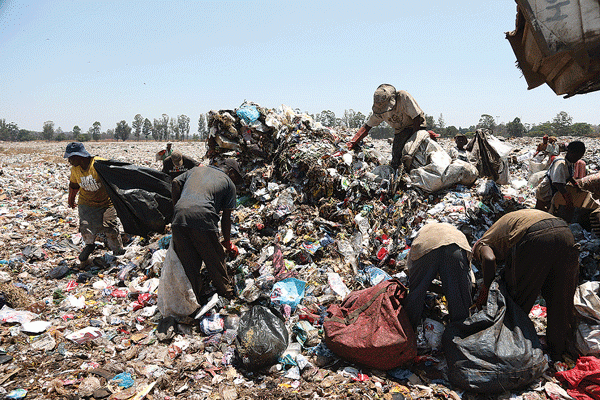 African countries, Zimbabwe included, are currently suffering from high levels of toxic electronic waste (e-waste) pollution from the West which is also contributing to the unprecedented impact of global warming and climate change, it has emerged.
Ecological experts are saying e-waste, which is highly-toxic and damaging to people's health and the environment, ends up on the continent anyhow although Africa is not necessarily responsible.
All this is happening at a time a number of key environmental issues of global significance are being debated, especially through the United Nations Sustainable Development Goals forum (UN SDGs 2015-2030), say experts.
Despite all these efforts and forums, there is less success and impact, experts assert.
"Global warming and climate change, depletion of the atmospheric ozone layer, cross-boundary pollution, including 'acid rain', nuclear waste, and waste disposal in international seas are being addressed at international forums, including the SDG platform with minimal success and impact", said Kalale Fobisse, a climate change consultant based in Canada, in an interview recently.
He stated that Africa has become a dumpsite for all sorts of waste because the rest of the world has turned its back to the West's garbage. The trend is not only worrisome, but consistent with what has been happening for a long time.
"Over the past three decades or so, Africa has become an attractive destination while at the same time other countries have also become conscious about the dangers of e-waste in their territories," Fobisse said.
"This is happening against the background of biting climate change impacts like heatwaves and floods, for example, and add the e-waste menace to the concoction, Africa needs to seriously examine its environments, especially against the battle at reducing the impact of climate change," he warned.
Fobisse further explained that Africa lacks strong and effective legislation that deals seriously with shipping e-waste from the West into its territories.
He alleges that its politicians or even governments are not taking a serious position on this phenomenon because they are also probably looking for payments for toxic waste to be dumped on the continent, while paying little or no attention to the environmental risks.
The United Nations Environment Programme (UNEP) notes that over the past decade, thousands of hazardous e–waste is routinely dumped on the African shores in countries like Mozambique, Angola, Equatorial Guinea, Ivory Coast, Ghana and Nigeria, for example, before gradually gaining entry further inland neatly packed in containers.
UNEP notes that e-waste refers to the remains of technological materials once used in homes and industries such as laptops, mobile phones, television sets, coffee machines, fridges, old analogue radios and any other electrical gadgets, including plastic waste, generated by developed countries.
The UN's SDGs as they relate to the environment are aimed at getting the world to work hard at reducing the impact of climate change.
However, Africa is already experiencing the negative effects of climate change and with many of its countries becoming dumpsites for Europe, analysts fear the continent will not be able to meet its targets.
"You cannot have a clean environment when you are accepting waste to be dumped in your environment, so clearly those targets of cleanliness cannot be met," Fobisse said.
According to the Global Partnership on Waste Management (GPWM), the scourge of e-waste is growing across the globe, posing massive health, ecological and climatic hazards.
The GPWM further reports that e-waste or environmental dumping is the practice of trans-frontier shipment of waste from one country to another. The three-goal is to take the waste to a country that has less strict environmental laws.
The upsurge in e-waste is largely attributed to the Fourth Industrial Revolution on the back of technological advancements of the 21st century.
According to the Environmental Management Agency (EMA), e-waste in the country is becoming an ecological crisis and is growing out of control if urgent and practical action is not taken.
EMA also notes that increased consumerism of technology has been matched by appropriate disposal mechanisms and, hence, e-waste has become a real danger.
Zimbabwe Environmental Law Association's senior legal officer Shamiso Mtisi said: "The Environmental Management Act has laws that provide for the disposal of hazardous waste, but the regulations do not address the issue of e-waste, per se."
According to a research fellow at the Chinhoyi University of Technology, Fred Gweme, Zimbabwe has no government-approved e-waste recyclers.
"There are no entities that are individually licensed to collect, process and dispose of e-waste, leaving the environment at risk of climate change impacts.
"Therefore, e-waste involves informal recycling in a context of inadequate legislation and a continued lack of awareness of the stakeholders," said Gweme in a research paper published in 2016.
"Zimbabwe, like many other African countries, has ratified the international treaties on e-waste management like the Bamako Convention (1993), but has not domesticated it.
"As a result, regulatory efforts and supervising efforts are fragmented, implying that the implementation of international e-waste policies and legislations remain a challenge since there are no national laws and regulations to support and, therefore, the environment and climate are always at risk," notes Gweme.
The research paper further observes that as e-waste is mostly handled by informal industries, there is no reliable data on the volume, costs and benefits of e-waste.
In 2012, Zimbabwe ratified UN-initiated Basel, Rotterdam and Stockholm conventions that restrict the trans-boundary transfer and disposal of organic matter, pollutants and other forms of waste. It also regulates the management of harmful chemicals.
However, experts note that there are loopholes in the current European Commission's electrical and electronic equipment waste directives which allow the export of e-waste from developed to developing countries.
A recent study by UNEP's IETC also observes that 80% of the collected waste ends up in unreported and largely unknown destinations, particularly Africa; while criminals exploit the loopholes and e-waste contributes highly to environmental risks and climate change impacts over time.
Follow us on Twitter @NewsDayZimbabwe
Related Topics