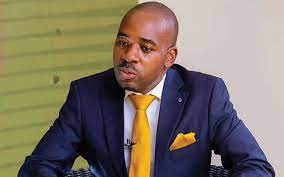 OPPOSITION Citizens Coalition for Change (CCC) supporters in Epworth has launched the Yellow Wednesday to augment the party's nationwide rural mobilisation exercise code-named mugwazo ahead of the August 23 harmornised elections.
The CCC launched mugwazo to make inroads in areas considered to be Zanu PF strongholds.
The launch of the Yellow Wednesday in Epworth North constituency was led by CCC aspiring candidate Zivai Mhetu as they distributed campaign material in the informal settlement south-east of Harare.
Other aspiring candidates under Epworth Local Board also participated in the campaign.
Speaking before the door-to-door campaign, Mhetu said the Yellow Wednesday initiative would run until voting day.
"As you are aware we have been conducting these campaigns every Saturday while mobilising support for our presidential candidate and champion-in-chief Nelson Chamisa, we chose Wednesday to remind our supporters of the Wednesday, August 23 voting day," he said.
"The day has been set aside to increase our visibility in the constituency while complementing the party programme of Mugwazo so that we get maximum votes for our president.
"Even when we are done with the citizens caucuses, our candidates who would have been chosen by the citizens would continue with the programme for an overwhelming win for our presidential candidate."
CCC has deployed senior party leaders to areas such Murehwa, Mutoko and Uzumba in Mashonaland East province and several other provinces across Zimbabwe to drum up support for the opposition party.
Related Topics