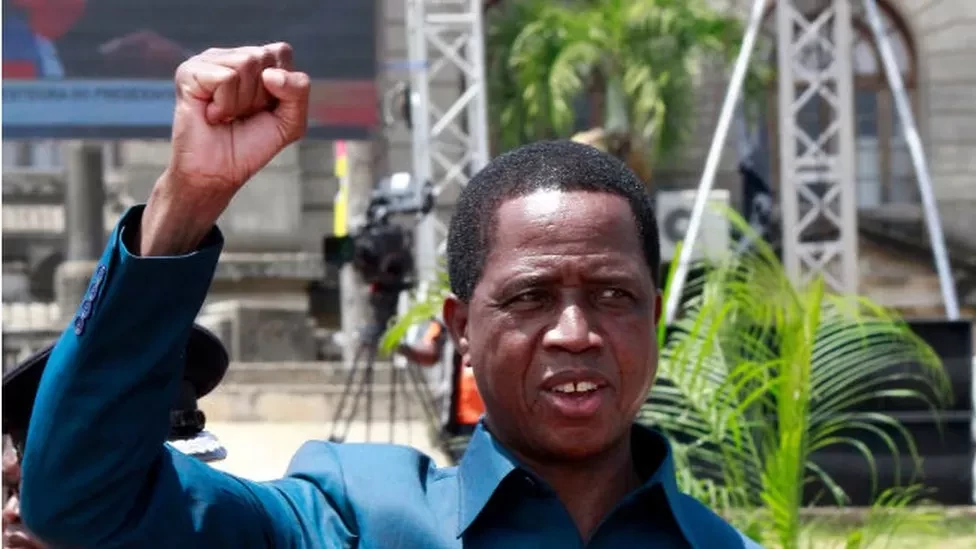 Zambia's government has withdrawn retirement benefits and privileges from former President Edgar Lungu following his decision to return to active politics.
Mr Lungu lost the presidency to Hakainde Hichilema in 2021, after which he announced his retirement.
After six years in office he left the country facing serious economic issues as Africa's most indebted nation.
His return to politics sets a stage for a bruising 2026 presidential race.
The former president has already been notified about the immediate withdrawal of his retirement benefits and privileges, according to government spokesman Cornelius Mweetwa.
He said it was clearly stated in the law that former presidents who returned to politics would lose their benefits.
As a retired president, Mr Lungu was entitled to three security officers, a diplomatic passport, three state cars, a furnished house, medical insurance and funeral expenses on his death.
He also enjoyed immunity from prosecution.
In a press conference on Wednesday, Mr Mweetwa said the former leader would now be treated with "equality of the law", just like any other senior citizen of the country.
Mr Lungu is aiming to capitalise on growing dissatisfaction with the continued economic hardships in the country under his successor.
Civil society groups have also expressed concern over what they described as the "shrinking" human rights freedoms in the country.
While announcing his political comeback last week, Mr Lungu said he was returning to fight for and defend democracy in the country.
He also pledged to save his factionalised ex-ruling Patriotic Front party from collapse. The government has threatened to de-registrar the party over leadership wrangles.
The government spokesman denied Mr Lungu's recent statement that supporters of the ruling United Party for National Development (UPND) were targeting him.
He described Mr Lungu's remarks that his life had been threatened as a "mere false alarm", saying the former leader was as secure "as any other citizen".
Mr Lungu was, however, warned against confrontational politics against President Hichilema's government.
Last month, Mr Lungu was warned against jogging in public, with police describing his weekly workouts as "political activism".
It is not clear whether his immunity from prosecution will be removed.
Zambia's parliament has revoked the right to immunity for two former presidents - Frederick Chiluba in 2002 and Rupiah Banda in 2013.
Some members of the ruling UPND have been calling for the removal of his immunity and prosecution for alleged corruption during his rule. Mr Lungu said the allegations were politically motivated.
Related Topics