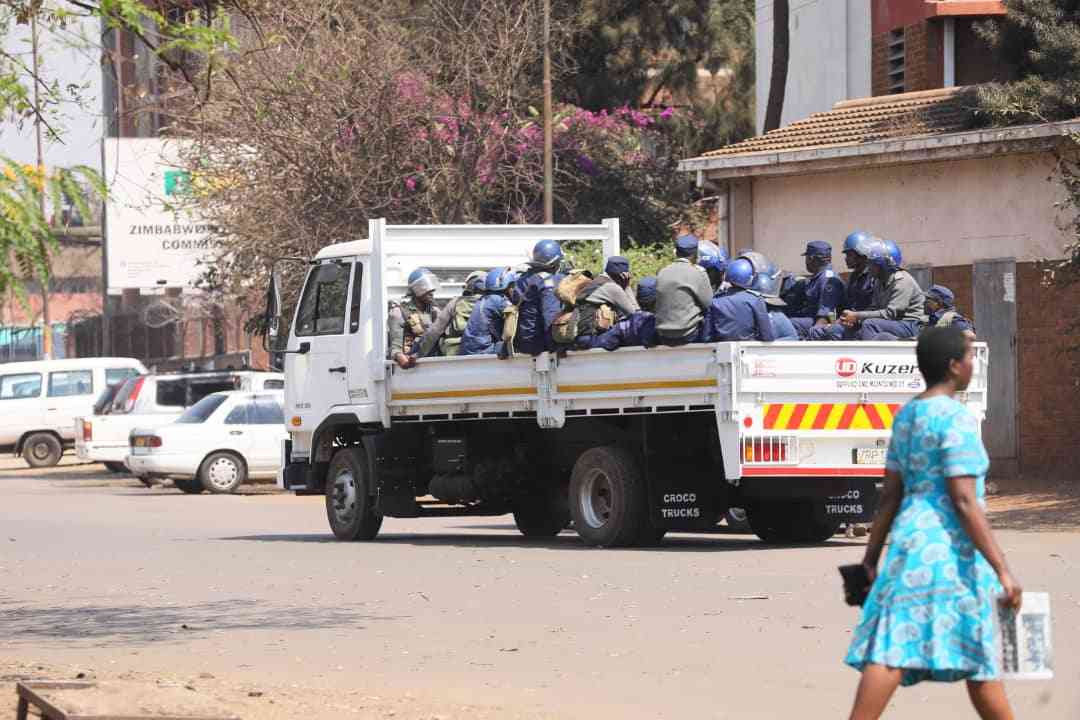 POLICE have blocked all the major roads in Harare's central business district which lead to the national electoral command centre ahead of the announcement of presidential results.
Anti-riot police were on patrol throughout the day in the central business district yesterday, with water cannons deployed at strategic points in town.
Roads that lead to the Zimbabwe Electoral Commission (Zec) headquarters were also barricaded.
Police officers were demanding Zec accreditation to permit motorists and pedestrians access to the command centre stationed at the Harare International Conference Centre (HICC).
Driving schools that operate around the open area adjacent to the HICC were ordered to move away by police officers.
Zec chief elections officer Utloile Silaigwana said the police were carrying out their mandate to protect the people's vote.
"With regards to the roadblocks and checkpoints around Zec head office and the national collation centre, our understanding as a commission is that it's the Zimbabwe Republic Police mandate to protect order, peace and security as we head towards announcement of presidential results.
"Please note that access to the Zec offices as well as the national results centre remains open to all accredited stakeholders, including presidential candidates and their chief elections agents."
Silaigwana dismissed the information circulating on social media that the military had taken over Zec, saying the electoral body was fully operational.
Zec has already started releasing results for the National Assembly as the nation awaits the announcement of the presidential results.
Preliminary results started trickling in on Thursday, with both the ruling Zanu PF and the opposition Citizens Coalition for Change parties claiming victory.
Zec said the presidential election results would be announced by August 28.
In a statement on Wednesday, Zec said the time stipulated for the announcement was meant to allow for meticulous verification before the final results are made public.
The Wednesday election was marred by chaos such as late delivery of ballot papers as well as intimidation of voters by a Zanu PF affiliate group, the Forever Associates Zimbabwe, which has strong links to the Central Intelligence Organisation.
On August 1, 2018, six civilians were killed after soldiers opened fire on protesters demanding the release of presidential results.
Meanwhile, police spokesperson Assistant Commissioner Paul Nyathi last night seemed to sing from a different hymn from that of Silaigwana.
He dispelled rumours of "a curfew or any form of disturbance in the country as peddled by some individuals and groups on social media".
"The police dismisses false reports claiming that certain roads in Harare are blocked by law enforcement agents. The public should feel free to conduct normal day-to-day activities not only in Harare, but throughout the country," Nyathi said.
He said the law enforcement agents were "conducting motorised and foot patrols in central business districts, residential, industrial and other areas to maintain law and order".
Related Topics