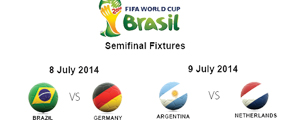 AS the World Cup semi-finals kick off today, the question on everyone's slips is: Will the world's most coveted trophy cross the Atlantic Ocean for only the first time in its history?
Staff Reporter
The only two occasions the World Cup was won outside the continent it was held was in 1958 when Brazil beat hosts Sweden in the city of Solna and in 2010 when Spain lifted it in Johannesburg, South Africa.
Brazil beat Sweden 5-2, while the Netherlands beat Spain by a single goal.
Europe has hosted the tournament 10 times since its inception in 1930 and on nine occasions, the trophy remained on the continent.
The Americas [North, South and Central] have hosted the competition on eight occasions and have never let it go.
But the two remaining teams from Europe, Germany and the Netherlands, are in top form and each one of them is favoured to win the Cup.  But if history is anything to go by, the trophy should remain in South America even if the two remaining teams are just so-so.
Hosts Brazil have scrapped through without their usual flare and now face their remaining opponents without their talisman Neymar Jnr.
Argentina have survived on Lionel Messi's individual magic and the support of Angelo di Maria, who will be missing due to injury. History will be made if the Europeans beat the South Americans in their own backyard.