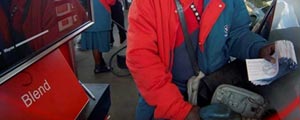 FOUR fuel operators were last year found guilty of operating without licences and violating fuel quality regulations.
Tarisai Mandizha
Zimbabwe Energy Regulatory Authority (Zera) chief executive officer Gloria Magombo said the prosecution of Faith Fuel in Graniteside, Emo Petroleum in Ardbennie, Pickglow Petroleum and Iconic Petroleum (both in Southerton) came after investigations exposed the quartet.
"Zera conducts surveillance operations across the country on all service stations to ensure compliance with their license conditions which include safety, environment, infrastructure, fuel quality among many other issues," Magombo said.
Magombo said Zera will continue carrying out surveillance operations and are in the process of formulating petroleum regulations that would assist in the ensuring compliance among fuel operators.
"We advise players in the petroleum sector to be licensed for their own benefit as well as for the benefit of consumers.
"To be a holder of a Zera license, one would have met requirements for environmental protection, fire prevention, product quality standards as well as transportation and storage facilities," Magombo said.
She said the requirements ensured that operators carry out operations safely and legally whilst consumers benefited from receiving quality products.
She, however, said fuel operators without licences should apply before March 31, 2014 deadline.
Magombo added that Zera has been involved in a number of initiatives to address power challenges in the country and last year approved four licences for Southern Energy, Kariba Hydro-Power Company, Kupinga Renewable Energy and Hwange Power Station Expansion project.
Southern Energy will operate a coal-fired Shangano Power Station in Harare with a capacity of 600MW. Expansion at Kariba Power Station will add 300MW.
Kupinga Renewable Energy will operate a 2MW hydro-power station in Chipinge.
Expansion works at the Hwange Power Station will add 600MW to the national grid.
Zimbabwe is currently struggling to meet its energy requirements due to limited investment in the capital-intensive sector. Power generation currently stands at 1 900 MW against a peak demand of 2 200MW as new power generation projects take time to complete.