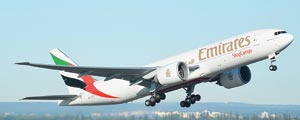 ONE of the world's leading airlines, Emirates, is offering discounts of up to 25% to travellers from Harare to selected destinations.
BUSINESS REPORTER
Travellers in the economy class get a 20% discount while those in the business class would enjoy a 25% knockdown on airfares.
Economy class tickets via Dubai to Bombay start from $755, London (from $940), Beijing (from $1 070), New York (from $1 170) and to Dubai (from $650).
Business class fares to Bombay start from $1 810, London (from $2 620), Dubai (from $3 180), Beijing (from $4 020) and New York (from $4 110).
Emirates said travellers must purchase their tickets between September 18 and 27 2014, and travel between September 18 and December 2 2014.
Tickets are valid for return travel only, with a minimum stay of three days and a maximum stay of one month.
"Emirates is all about offering value for money. This offer with up to 25% off for a limited time offers even greater value, and the opportunity to travel on Emirates to one of a number of destinations in its global network, with just one convenient and comfortable stop in Dubai," said Paulos Legesse, Emirates country manager for Zimbabwe.
Emirates services daily the Harare-Dubai route.