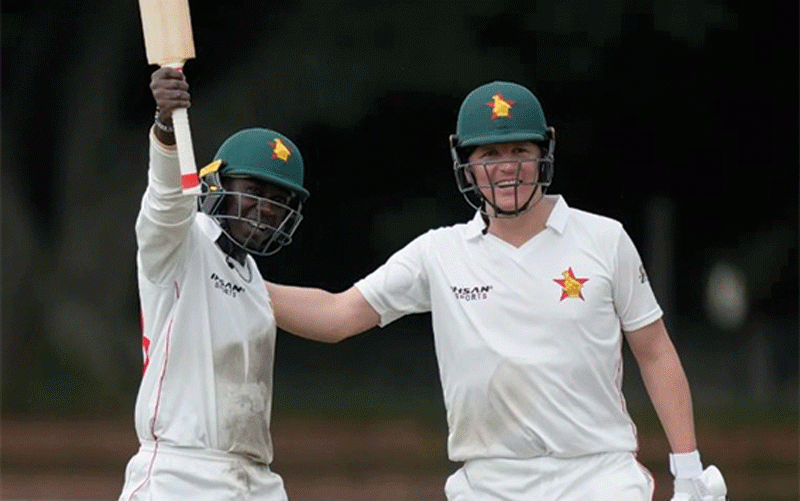 Zimbabwe national cricket team assistant coach Stuart Matsikenyeri is hoping that the team can rectify its mistakes from the first Test when they clash with West Indies in the second one which starts on Sunday.
Matsikenyeri said the technical team was impressed by the team's performance in the drawn first Test when they lost a day's play due to rains.
Zimbabwe appeared to be on the backfoot after they failed to take wickets in the first two days before West Indies 447 for 6 declared.
They batted well to declare 68 runs in the deficit, which was a big surprise to many, but Matsikenyeri defended the move saying they would rather lose trying to win matches.
He said the team has been transformed so much that they cannot be underestimated.
"I don't believe that they took us for granted with the way Zimbabwe has been transformed. We were looking at ways and the best way is to take 20 wickets. The top six have a responsibility to get us the runs. The strategy was to give the best chance of taking 20 wickets," he said.
The former national team batsman praised Brendon Mavuta who took a five-wicket haul before scoring a half century.
"Brendon has always been a hard worker with the bat. It's pleasing to see him come out and perform the way he did with both bat and ball. His first job is to take wickets, but over the years he has always batted well at franchise level. It's good to see him stand up at this stage where it matters most."
He said they will use the days between the two matches to explore ways to win the second.
"Our attitude as the Zimbabwe national cricket team is to come out and win games and that was the same mentality for this Test match. It is about exploring how we can stay in and get a positive result which is winning the match."
He also explained the reasons behind declaring while in the deficit.
"We declared because we thought it didn't make sense to carry on batting. We wanted to give ourselves enough time to try and get a win. Some phases we were on top and some were not, it's the nature of the game. In this Test we were at a point where it was clear that we couldn't win, so we just had to play for a draw and we are pleased with the way the players handled themselves. The series is alive, we have got another Test match coming up, we have to explore ways to try and win the second one. [Tanunurwa] Makoni and Innocent [Kaia] gave us a good start. We want them to carry on, we are pleased with what they did. Gary Ballance was fantastic in this Test. The seamers had a tough time on that deck, they put in a good shift. We are proud with what the players did in this match."
Skipper Craig Ervine was also impressed by the team as did West Indies captain Kraigg Braithwaite.
"In the last hour, yeah it felt like forever. I thought I thought there was a lot of fight in the boys over the whole five days," he said.
"The first two days were of course tough, not picking up any wicket but we fought back well and then that good partnership between Ballance and Mavuta. They were excellent. Have told the guys to go out and express themselves and they have done that very well."
Braithwaite commended Zimbabwe for their batting.
"After losing a whole day, I think it was a commendable effort from us to get close to a victory, so well done to us," Braithwaite said.
"But also, Zimbabwe batted very well, so well done to Craig and his team. We knew it wasn't going to be easy, but it was commendable from the boys with Zimbabwe coming hard with the ball and bat. Wickets with the new ball were crucial, but Zimbabwe batted well. Overall, I am pleased with the team effort."
Related Topics