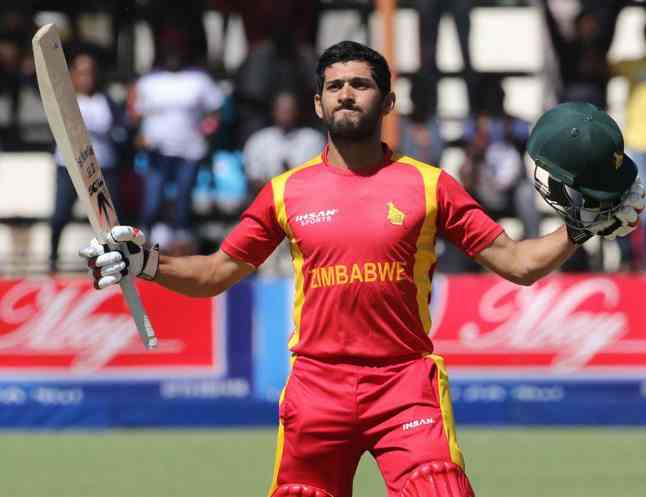 HOW much can we read into the fact that ahead of their crunch Group A clash, West Indies sent their best-performing player from their defeat to Scotland to face the media and Zimbabwe presented their only batter who didn't perform from their victory over Ireland?
Perhaps there's nothing more to it than the luck of the draw and those were the players tasked with Press conference duties on the day or maybe in there is a small glimpse into the mindset of each of these teams: West Indies are looking for heroes who can do what Jason Holder did (2 for 14 and 38 runs off 33 balls against Scotland) and more; Zimbabwe are comfortable that even if someone like Regis Chakabva (who was dismissed for a two-ball duck against Ireland) fails, they have the resources to rally. That's the word usually reserved for West Indies and it's what they have to do to keep their hopes of progressing to the Super 12s alive, primarily with the bat.
"We didn't bat well. We were four down by the tenth over and that's not ideally where we need to be in a given T20 match. We've got to really set it up better for the back half to really prosper," Holder said, putting the spotlight on the obvious fault from West Indies first match.
"We just kept losing our wickets at bad phases of the game and I think that's where the game got away from us. I don't think there's much more. When you keep a team to 160 in T20 cricket, you expect to walk home, but we didn't. So it's just a matter of us to really look at how we build partnerships in the middle and to really set the game up for the back half."
Asked whether West Indies were missing power-hitting of the past like Andre Russell and Kieron Pollard, Holder was unequivocal: "I don't think we're missing everyone. We've got every tool we need in this dressing room."
Chakabva agrees with that, and said Zimbabwe are bracing for a West Indian rebound, even though they have barely played against them in this format. They've only faced off in three T20Is, and the last one came more than nine years ago. They haven't played against each other in more than four years, in any format, but on reputation alone, Zimbabwe are talking the opposition up.
"West Indies are a force to be reckoned with, and they'll be hungry tomorrow to put in a big fight, and we know they're going to bring a big fight," Chakabva said.
He's right in that West Indies are serious about getting their campaign back on track. They have played open cards, both in the media where coach Phil Simmons called their batting effort "unprofessional", and with each other in the post-match analysis.
"We had a very frank and honest discussion," Holder said.
"The guys really shared how they felt personally and got their emotions across. I think it's important to have constructive conversations within the dressing room - it only builds the character of the team. Once we continue to be honest with one another, then go and execute, then I think we'll be in much better stead."
Whether the conversation will impact performance remains to be seen but the proof will come on the playing field and there, Holder did not hold back on what he expects from his team-mates.
"Tomorrow would determine if the chats and discussions were fruitful. We just need to deliver. It's no uncertain terms about it. I think we've got what it takes to win this competition within our dressing room, but there's no point in just having the talent. We've got to produce it. Execution is the name of the game," Holder said.
"We just need to find a way to put it together, not only put it together in the batting front but a complete game."
Zimbabwe have not gone anywhere near predicting something as massive as a tournament win. They wouldn't. For them, the first goal is getting into the Super 12s as a tribute to their new coach Dave Houghton, who said he didn't regard their tournament to have started unless they reached that stage, and who has allowed them to believe in themselves again. "Dave has been brilliant with us, with everybody really around the team, and we've all loved having him," Chakabva said.
"He's really brought that fun and really positive nature and aspect of our games back into the squad."
But it's not all love and light. Zimbabwe have also brought variety and skill to the tournament, especially in their bowling. In Richard Ngarava and Blessing Muzarabani, they have a left-right opening bowling combination of pace, bounce and seam movement. Tendai Chatara and Luke Jongwe complete a four-seam attack, for whom Australian conditions seem tailor-made. When operating at what both Chakabva and Holder identified as Test-match length, this attack could present a stern challenge to West Indies' shaky line-up. And they are followed by at least three spin option — Sean Williams, Ryan Burl and Sikandar Raza. If needed, Zimbabwe have more in reserve.
The depth in their squad and their recent successful run - Zimbabwe have won eight of their last nine T20Is — means West Indies are not taking anything for granted, and they sent their best player to confirm it.
"Zimbabwe are a very good cricket team and they have been more and more competitive. They seem to be on a nice winning streak too," Holder said.
"We expect a highly competitive game, probably one of the toughest games that we're going to have here in this competition."
Related Topics