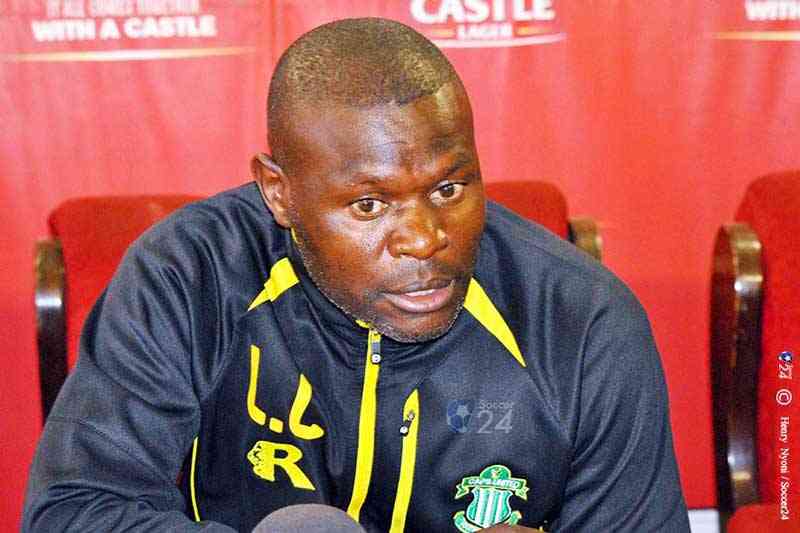 WITH CAPS United fans anxious about the team's future and the possibility of relegation looming large, coach Lloyd Chitembwe insists that his side is in control of its destiny as he seeks to end a four-match winless streak when they face Triangle on Sunday.
Last week, Chitembwe endured a welter of criticism after the Green Machine failed to win for the fourth match on the trot.
The Green Machine are looking to recover from a 1-0 defeat to Yadah at the weekend to move away from the drop zone.
Although they remain six points above the drop zone, with 31 points after 28 matches, further defeats in the remaining matches could drag them into the relegation matrix.
And Chitembwe, while acknowledging they are in an unfamiliar position given their stock and history and of success, was optimistic that they had the situation under control.
"The preparations for the upcoming match against Triangle have been more or less the same. The idea is to try and win the match," the championship winning coach said.
"We have everything in our control. We need to have the belief we can go out there and win the match. But the psychological aspect is key when we are on the down ward trajectory and are looking to ascend. It is critical to manage the situation with calm, composure and patience."
Chitembwe said his team would approach the Triangle match with aggression, hoping to collect three critical points.
"We need to approach the match with aggression and intensity and all the other aspects of the game. We know Triangle are doing quite well the opposite of our selves, but not all games are the same, so we are looking for a change of fortunes considering we are well below what is expected of ourselves. We are in an unfamiliar position considering our status. But we still have everything in our control, we are in a better position than those behind us and we expect more effort on Sunday."
Triangle go into the match high on confidence after winning the meeting earlier in the season and will be looking to do a double over the Harare giants.
The Sugar Boys have only lost once in their last five games.
Although the Green Machine are closer to the throes of relegation, the teams below them will need to be perfect in what remains of the season to drag the Green Machine into the relegation fight.
Tenax, occupying the relegation cut -off points with 25 points, followed by Harare City (24) and Bulawayo City (24) may need to win their remaining six matches to ensure survival.
Caps United though appear to have a tough run-in as they travel to Rusape to face Cranborne Bullets to whom they lost 2-0 in the first half of the season.
Related Topics