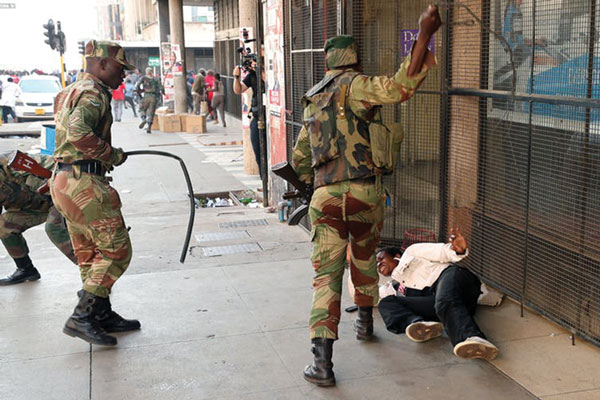 ZIMBABWE'S military was responsible for the fatal shooting of six civilians, some of whom had nothing to do with the post-election protests that erupted on August 1 in Harare, the Zimbabwe Association of Doctors for Human Rights (ZADHR) has said.
BY RICHARD CHIDZA
The shooting took place after armed soldiers in tanks rolled into the central business district to quell protests over alleged delays in announcing presidential results as the opposition claimed that the vote had been rigged in a manner reminiscent of clamp downs associated with the near four-decade rule of former President Robert Mugabe.
Click here to download the Keynote Address
Top military and police commanders on Monday and Tuesday appeared before the commission of inquiry into the violence and denied that the army was behind the deaths of six civilians by gunshots wounds.
But ZADHR in a report said it had attended to 11 people with gapping gun-shot wounds and accused government of a cover-up job while in one case the feared Central Intelligence Organisation (CIO) tried to interfere with medical work.
The report titled: Zimbabwe a New Era/Error and compiled by medical doctors Norman Matara and Fortune Nyamande, documents cases the group attended to between August 1 and September 5, including 72 cases of politically-motivated violence.
"A male (41) who was shot in the chest by soldiers and died on the spot. He was certified dead by a ZADHR doctor at Parirenyatwa Hospital. However, when the doctor tried to examine the body to ascertain the full nature of the injuries, he was stopped by a suspected State agent and the body was whisked away. Post-mortem results could not be obtained," the report says of one case.
Of the 102 cases of political violence that were documented by ZADHR, 31 were perpetrated by soldiers, traditional leaders accounted for eight while 20 were attributed to Zanu PF supporters. The report says 19 were by unknown people while only two were attributed to the post poll violence "protestors."
According to the report, most of those who were shot had wounds indicating they were fleeing.
"Reports by medical personnel indicated that most of the entry gunshot wounds and exit wounds of victims were consistent with those of individuals shot whilst fleeing," the report said.
Commander Zimbabwe Defence Forces General Philip Valerio Sibanda and other senior army officers, in submissions made to the inquiry headed by former South African President Kgalema Motlanthe, denied that the military killed anyone.
Police also claimed their investigations had thus far drawn blanks but pointed an accusing finger at MDC Alliance leader Nelson Chamisa who they say incited his supporters to protest.
The ZADHR report says "there was disproportionate and indiscriminate use of force (by the army), resulting in the death of at least 6 civilians and a lot more were injured."
"In the following days the army carried out a crackdown in Harare's high-density suburbs that included beatings and harassment of people. In other areas such as Muzarabani, Mutoko and Maramba-Pfungwe, opposition supporters and party polling agents were displaced from their homes after being threatened with torture or death, or both," ZADHR said.
ZADHR provided emergency medical and surgical treatment to victims, conducted rigorous in-depth interviews with survivors and offered psychological counselling services.
[su_document url="https://newsday.wpengine.com/wp-content/uploads/2018/11/ZADHR-KeyNote.pdf" width="1580″ height="1600″]