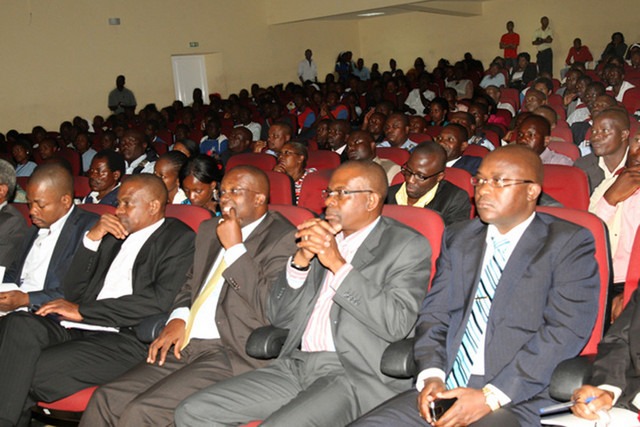 AS the world commemorated Press Freedom Day, the Media Alliance of Zimbabwe (MAZ) took the occasion to reflect upon the state of media freedom in Zimbabwe.
Opinion with Nigel Nyamutumbu
Press Freedom Day is annually commemorated on May 3 to recognise the fundamental principles of media freedom, including assessing the extent at which Press freedom is being enjoyed around the world, to defend the media from attacks on their independence and to pay tribute to journalists and media practitioners that have put their lives on the line in the exercise of their profession.
This year's commemorations come at a time Zimbabwe is scheduled to hold general elections and as advocates of citizens' rights to access information, freedom of expression and media freedom, this day provides MAZ with an opportunity to raise concern on the slow implementation of media reforms in Zimbabwe.
While the new administration that assumed office in November 2017 has periodically assured citizens and the international community that government is going to implement reforms, including within the media sector, it is regrettable that nothing tangible has been put in place six months since the political transition.
As such, threats to media freedom, which pose a chilling effect on citizens' right to free expression and access to information both offline and online remain a concern on Zimbabwe's media landscape.
MAZ notes the various overtures by the government to engage and consult on the proposed cyber legislation and review of the Access to Information and Protection of Privacy Act and the Broadcasting Services Act. However, it is regrettable to note that the government did not set timelines on when these plans are going to be implemented and there is no clear roadmap for reforming the media.
We, therefore, call on the Information ministry to submit legislation before the Cabinet inter-ministerial committee spearheading the process of aligning laws with the Constitution.
In preparing for the forthcoming elections, MAZ urges the government to address the following challenges to ensure that the media effectively play its democratic role during the forthcoming elections:
Limited capacity and lack of sustainability of mainstream media
The mainstream media has been facing viability and sustainability challenges since the 2013 election.
This has been evidenced by the downsizing of newsrooms with retrenchments in both the State-controlled and private media.
This has negatively affected the ability of the mainstream media to disseminate information in both its quantitative and qualitative sense due to poor remuneration of journalists that have retained their jobs, as well as the reduction in ability to cover news as it emerges in the entirety of the country.
Repressive legal and political media environment
Despite the progressive incremental changes to the Bill of Rights that guarantees freedom of the media in tandem with free expression and access to information, journalists and media houses continue to operate in a repressive environment.
While criminal defamation has been struck off the statute books, journalists have continued to face arbitrary arrests while doing their work.
And this includes the arrest of a number of freelance and mainstream media journalists in July 2016 during social media movement and civil service unions motivated public protests.
In 2018, journalists have been harassed by both ruling and opposition political party activists and there have been incidences in which journalists have been unnecessarily detained.
Criminalisation of social media and internet-related content
The emergence and urban expansion of social media in Zimbabwe, while spurring on freedom of expression and access to information, has also seen the government respond by criminalising those that would use it to express views it disagrees with.
MAZ partners have also raised serious reservations over draft laws such as the Cybercrime Bill.
Lack of broadcasting diversity
Despite the licensing of three "private" free to air national radios stations and at least eight local commercial radio stations by the Broadcasting Authority of Zimbabwe, there is a lack of broadcasting diversity in the country.
Both by way of content as well as media ownership.
Content relating to news is largely similar on radio and does not give as much airtime to opposition or alternative voices.
With media ownership, there appears to be an emerging trend of cross media ownership by already existent media houses such as the Zimbabwe Newspapers Group or persons associated with the State/government.
Due to the challenges for community media in particular Zimbabweans in the rural areas only have access to government owned or government aligned media outlets.
Contestations over community broadcast media
In relation to broadcasting reform, there also is a further outstanding issue of the licensing of community radio stations.
The government has already issued statements, arguing against current community radio initiatives as led by the Zimbabwe Association of Community Radio Stations.
The intentions of the government are clearly to occupy community radio initiatives space with much more pliant stations that may not be as independent as expected, especially in rural areas.
Gender and the media
The perennial challenge of ensuring a gender sensitive and gender equality compliant media is of importance when considering the harmonised elections.
Not least because the media has to disseminate information about proportional representation woman candidates in the elections, but also to ensure that there is fair coverage of all candidates and a move away from the stereotypical representation of women in the media.
Poor working conditions, media professionalism and an emerging lack of adherence to ethics The media profession, already under siege from a debilitating economic situation and facing sustainability challenges has become vulnerable to a lack of professionalism and ethics.
Due to dwindling numbers of formerly employed journalists, journalists' unions are facing a challenge of membership subscriptions as well as having to represent a number of recently fired scribes in court.
This has also meant that there is increased vulnerability to unethical conduct on the part of journalists through "brown envelope journalism" or through not following the set processes of verifying stories and following the Voluntary Media Council of Zimbabwe media code of conduct.
Nigel Nyamutumbu is the MAZ programmes manager and can be contacted on [email protected] or [email protected], Mobile +263 772 501 557, Facebook: Media Alliance of Zimbabwe and Twitter: @MAZ_Zim.