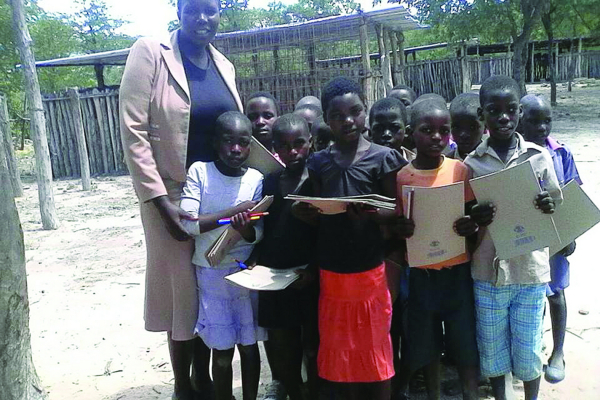 ABOUT 300 pupils from Chilaba Primary School under Chief Sinampande got a reprieve from Diasporans who pledged to refurbish their thatched, dilapidated poorly equipped school, where they have learnt for years sitting on rocks.
By Nokuthaba Dlamini
The school, built by parents in 2012, after government had allegedly failed to intervene, was spotted on social media by one United Kingdom-based Diasporan at the end of last year.
The children walked about 40km to neighbouring schools before the construction of the school.
Velile Dube, based in Bulawayo, was then assigned to deal with government paperwork and the community for the greenlight to go ahead with the project.
Chilaba, meaning to refuse, was named by parents who said they did not pin any hopes on the government, and, instead, they took it upon themselves to build a community-owned school.
Dube said the response had been overwhelming since December and they had since raised $20 000.
"We are in the process of creating an account, where all the money will come through . . . It's amazing to note that pure love for the needy still exists. People from the United Kingdom, Canada, Australia, the United States and South Africa have done a great job. We also have some locals that have pledged to assist in the form of manpower as well," he said.
"Statistics show that 65% of our population is rural. That said, the state of Chilaba is apparently not an isolated case. This is a common eyesore across rural Zimbabwe. If this is anything to go by, it seriously worries me that the bulk of our population is subjected to such mediocrity.
"My belief is that our dreams and aspirations are a product of our exposure. These kids desperately need more exposure to allow them to dream big. For through dreams came great inventions."
A few days ago, the pupils received stationery in the form of books, pencils, rulers and pencils among other educational sundries, while other donors have requested for uniform and shoes sizes for all the learners.
Dube said they were going to start building next month and plan to hand over the school back to the community around November. He said according to the approved plan, the school would have nine classrooms, a library, solar-powered laboratory and a canteen, among other school amenities.
The estimated budget for the project is $70 000.
Steps were reportedly underway to register a trust, Child Dreams Foundation, whose mandate would be a rural schools rehabilitation programme across Zimbabwe.