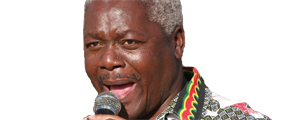 SINCE just before and after the 2014 December congress, Zanu PF has carried out purges which have seen many party stalwarts, who include former Vice-President Joice Mujuru and other party officials such as Didymus Mutasa and Temba Mliswa, expelled over a slew of offences.
Virtually, all the victims are crying foul, saying their rights were violated when the party dismissed them from their positions. Both Mutasa and Mliswa approached the courts only for their appeal to be thrown out for what Chief Justice Godfrey Chidyausiku said was "lack of merit". And yet they insist that they were victims of undemocratic practices as the party did not follow due processes.
Following these developments including the expulsion of Mujuru last Thursday, NewZimbabwe.com Chief Reporter Nkosana Dlamini (ND) rang up Zanu PF secretary for administration Ignatius Chombo (IC) to understand the party's controversial disciplinary procedures.
ND: There are accusations from some quarters that Zanu PF is not sticking to due process in disciplining its officials. Zeroing in on the party's former vice-president Joice Mujuru who has been dismissed from the party, what we know is that she was not granted an opportunity to appear and defend herself before the party's disciplinary committee. Why is that the case, Dr Chombo?
IC: The Press statement issued on Thursday (last week) clearly gives those answers, go and read that Press statement. So I cannot comment authoritatively on the matter that you are raising, but suffice to say the politburo and the national disciplinary committee operated within their mandate and what they did is above board and beyond reproach. ND: It's now a pattern, with all due respect, Dr Chombo, that . . . IC: But you can't tell us that it's a pattern because we are the custodians of those rules and regulations that govern Zanu PF and all required procedures were implemented. ND: Referring to the Didymus Mutasa case . . . IC: Everything was followed and there was no illegality. You can't accuse us of being undemocratic. If at all there should be an allegation that you can cause against us, then it must be on the basis of us being too democratic. We actually practice what we call extravagant democracy. ND: I am not the one making those allegations, but these are sentiments expressed by your critics. IC: Ah, what critics? From the opposition here? ND: Would you want to explain what you mean by extravagant democracy especially if it relates to the Joice Mujuru case? IC: We exhaust all the democratic dictates enshrined in our party constitution when we take action. ND: And it is basic to summon somebody to say to them, "you are being accused of offences ABC, come and explain yourself", is that not basic enough? IC: I am saying we have our own constitution. Yedu! MDCs follow their own constitutions. We followed ours to the letter and spirit. Very well followed, that's the point I am making. ND: Perhaps as a follow-up to that, sorry if I am sounding too persistent, is there a clause in the Zanu PF constitution that says somebody must not appear before a disciplinary committee? In other words, they can be dismissed summarily while they are seated in their homes? IC: I don't have a copy of the constitution with me nor the Press statement announcing Mujuru's expulsion, but I can only say that extravagant democracy was quite exercised in all disciplinary cases that the committee has dealt with and I am quite impressed by the chairman of the disciplinary committee Vice-President (Phekelezela) Mphoko who made sure that all, all, all dictates of the Zanu PF constitution were followed. Get hold of him, he will confirm all that I am saying. ND: My last question, Dr Chombo. If you would indulge me, what would be your comment on suggestions that there is an undue Grace Mugabe hand in all these dismissals? IC: Eh, Mphoko is the chairman and he is the boss and I know that the dictates of the Zanu PF constitution on dealing with disciplinary matters were adhered to.