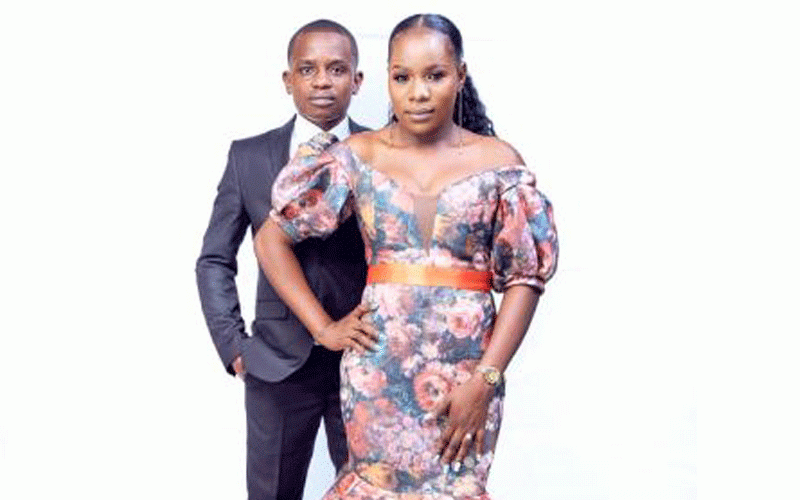 FORMER Zimpraise choir singer Ellard Cherayi who now fronts the New Dawn gospel ensemble, says making music with his wife is "an amazing experience" as they preach the word of God through song.
Cherayi is married to fellow gospel singer and ex-Zimpraise Choir member, Sharon Manyonganise-Cherayi.
To complement his efforts to spread the word through ministry, Cherayi has graduated to be a pastor with the Apostolic Faith Mission of Zimbabwe Church.
"For us, making music together is incredible. I think it is about knowing your spouse's strength and letting the other shine in their potential, not to be a stumbling block to them," he told NewsDay Life & Style.
"For instance, Sharon is so gifted in the knowledge of music and art and when that time comes, I let her be. I give her room to spread her wings and even guide me on what I should sing and do.
"On my part, I am a pastor, so the spirituality of music and worship is my expertise and she lets me shine from there and by doing so, we complement each other."
He added: "To my name, I have one album called Atmosphere Of His Presence and my wife has two. However, we have worked on other projects that we have directed and produced, for example, New Dawn Zimbabwe live DVD recording with 13 tracks, AFM of Zimbabwe Kingdom Praise live DVD recording and, our own live DVD recording, God The Lifter of Men, which has 14 tracks of which two Anosimudza and Hallelujah have been released to the public."
The Cherayis are not the first gospel music couple to emerge from Zimbabwe.
They are just following in the footsteps of Charles and Olivia Charamba, Ephraim and Respina Patai, Tamuka (now late) and Elizabeth Chinouriri, Tom and Bonnie Deuschle, among many others.
Commenting on what he believes makes them unique on the gospel front, Cherayi said the uniqueness of their ministry could only be identified by those who listen to and love their music.
"Although the fans are the ones that can really pinpoint what they see in us, we believe that it is very rare to have two gifted people coming together to be husband and wife and continue to work in the same field complementing each other as musicians," he said.
"We both love the Lord passionately and have different strengths musically and appeal to different age groups and the combination is very rare to come by."
The couple is currently making waves with its duet Fara Iwe Moyo Wangu, arranged and produced by Michael "Tiki" Manyika with the help of Cherayi's wife.
Cherayi said they were happy that Fara Iwe Moyo Wangu had been well received on the market.
"The song Fara Iwe Moyo Wangu was written by Michael 'Tiki' Manyika and my wife. Its inspiration comes from someone who is going through a difficult phase in life, but they begin to find comfort in knowing that God is right with them," he explained.
"God wipes away our tears when we cry and comforts us when we are hurting. People, therefore, encourage themselves by knowing that Jesus is alive and is a light that shines in darkness and this is the inspiration."
Cherayi said he was grateful to God for His love and mercy in his life and music journey.
"I started off singing in church in the praise and worship choir. I later joined the renowned Zimpraise Choir in 2014, which signalled the start of my music career on that platform," he noted, adding that it had been an amazing experience as there had been growth despite the road being bumpy over the few years.
He said despite the challenges, God had been faithful.
"In the Zimpraise Choir, we learnt a lot and it contributed to what we are as musicians today. Obviously then, you will be following a vision, but now you are the vision that is a part of you and you dictate where you want to go."
He added: "Being the vision, it, therefore, means some of the songs you sing you write on your own. You dictate how far you want to go and the pace you want to have to reach your goal. Now that experience is priceless."
Cherayi took his career to another level when he launched his debut album titled Atmosphere Of His Presence in 2017.
"The journey has been full of ups and downs, but in all things, I give honour to God for sustaining me as I later got married to a spouse who also has a music passion like mine, and I am totally grateful to God," he noted.
"I really thank God for the success of my career and the grace that has carried me this far as a music composer and performer. Together with my wife, we have done projects, live DVD recordings, collaborations, tours, concerts and have even worked with different artistes over the years."
With unwavering support from the fans, Cherayi promised to continue producing more music.
"For 2023, God The Lifter of Men live DVD recording will be made available on all digital stores soon. We have a number of concerts lined up for the year including overseas tours and in neighbouring countries," he said.
Related Topics