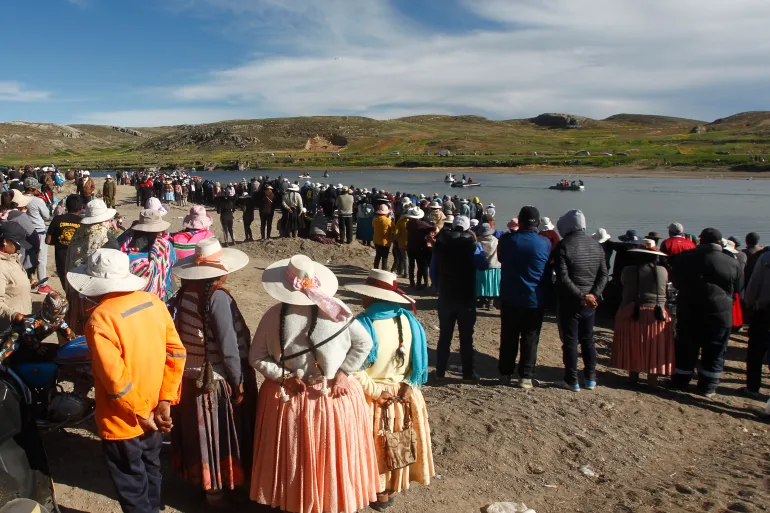 Six Peruvian soldiers have drowned after jumping into a freezing river while fleeing anti-government protesters in the country's south.
The defence ministry said soldiers came under attack from people armed with slingshots and sticks at a demonstration on Sunday against the government of President Dina Boluarte in the city of Ilave in the Puno region.
"With the location of the remains … the search and rescue efforts have concluded," the ministry said on social media.
The bodies of the soldiers were retrieved from the Ilave River, a tributary to Lake Titicaca on the border between Peru and Bolivia.
Five other soldiers were also suffering hypothermia following attempts to cross the river, the ministry added.
Puno has been the epicentre of protests that broke out in December when then-President Pedro Castillo was removed and arrested after trying to dissolve parliament and rule by decree.
More than 50 people have died and about 1,300 have been injured – nearly half of them members of the security forces – in clashes since then, according to the country's rights ombudsman.
Castillo's supporters are demanding the resignation of Boluarte, dissolution of parliament, immediate elections, and a new constitution.
'No way out'
In a video shared by the ministry, a soldier who managed to escape said he and his colleagues "crossed the river … because we had no other way out".
"Between 800 and 900 people surrounded us and started throwing stones at us," he said, seated among about a dozen other servicemen, all wrapped in blankets. "People called us corrupt and murderers."
The soldier said the men had tried to form a human chain, but "the current took us, and … some of the troops began to drown".
A healthcare group in Puno said it treated five soldiers for hypothermia after local residents rescued them from the river.
On Saturday, 16 people – civilians and soldiers – were injured in clashes elsewhere in Puno that also saw a police station burned.
The demonstrations are driven by poor southern Indigenous Peruvians who see Castillo, who is also from humble origins and has Indigenous roots – as an ally in their fight against poverty, racism and inequality.
Elected for a five-year term, Castillo had been in office for only 17 months when he was dismissed.
He was the fifth Peruvian president since 2018 to be successfully impeached before the end of his term.
Related Topics