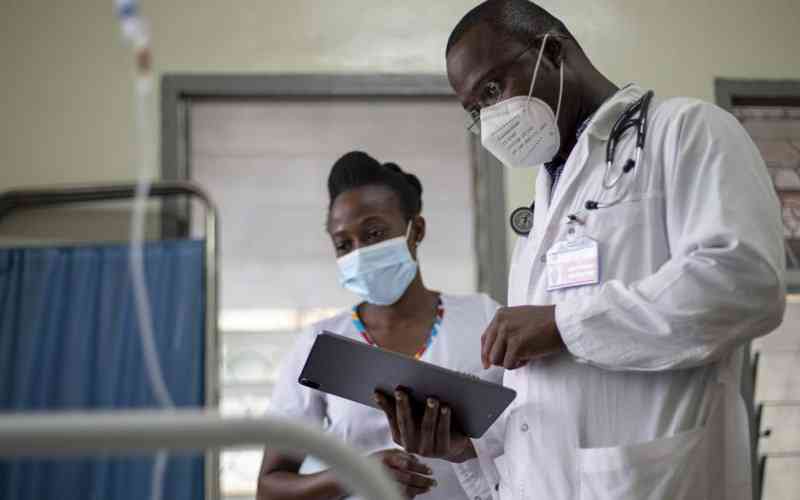 ZIMBABWE needs to invest more in health systems as a key driver to unlocking economic development and deal with challenges such as rising poverty, food insecurity, and unemployment, experts have urged.
The experts say there is a positive correlation between health expenditure and economic growth putting forth the argument that healthcare spending stimulates economic growth.
This is because health is a form of capital thus investment in health can increase both human and physical capital leading to overall economic growth and development.
The government committed in the Constitution and National Health Strategies, (2016-20, 2021-24) and the ZimAsset, NDS 1 and 2, to ensure healthy lives and promote wellbeing for people of all ages.
The country, therefore, has a strong institutional and policy framework to ensure healthy lives and promote wellbeing for all given that health is recognised as a fundamental right in the Constitution.
Against this background, the Community Working Group on Health (CWGH) in its submissions for the upcoming budget, laid down a raft of proposals that are meant to help stimulate and rekindle the collapsing health sector.
The group believes the government should ensure sustainable financing for healthcare delivery and financial protection for the poor by implementing comprehensive national health financing strategy.
In a budget submission paper seen by the NewsDay, CWGH said increasing health expenditure in tandem with the increased population and new national development goals remained a challenge to the health sector.
Similarly, the sector is confronted by ensuring that the poor and the vulnerable are also able to afford quality health services.
"The COVID-19 pandemic has highlighted the importance of strengthening the public health system and ensuring universal health coverage (UHC). No country can make significant progress towards universal health coverage without relying on a dominant share of public funds. Public funds and, therefore, strategic domestic resource mobilisation for health and its determinants are essential for UHC and for achieving the national goal of an empowered upper-middle-income economy by 2030. These include the road levy, diaspora remittances, private and individual philanthropists, natural resource governance beyond the community share ownership trusts, while reviewing the Aids levy, Health levy for improved effectiveness and efficiency of deployment." the group said.
CWGH added that the current health financing model remained unsustainable as it heavily relied on external financing as well as out-of-pocket financing.
In line with regional and global best practices, it added that the government should urgently explore a number of options and strategies for innovative mobilisation of resources.
The World Health Organisation has been advocating for sin taxes including a sugar tax on sugar-sweetened beverages to fight the scourge of non-communicable diseases and these can be used as an amicable avenue to raise additional revenue for Treasury.
The group further proposed the establishment of a National Health Insurance Fund for healthcare provision at all levels of care that is publicly funded through a combination of individual contributions from the informal sector, companies and the State coupled with sin taxes to ensure primary healthcare to every Zimbabwean.
"Currently only about 7% of Zimbabweans have access to medical insurance and this number is insufficient to ensure decent public healthcare. No country can prosper without a healthy citizenry, and certainly no empowered upper-middle economy can be achieved let alone the SDGs given the unfinished SDGs agenda and the current population health status," CWGH said.
As a move towards public health financing, Zimbabwe is currently implementing the Health Levy Fund, where 5 cents for every dollar of airtime and mobile data goes to health, under the theme, Talk, Surf and Save a Life.
The Health and Child Care mininistry is ring-fencing the financial resources mobilised through this levy for the purchase of drugs and equipment for public hospitals and clinics.
But CWGH said there was, however, a need for greater accountability and transparency in the management of the Health Levy Fund to ensure the funds are spent on the intended purpose.
"Furthermore, all levels of healthcare, that is clinic, district, provincial and central hospital must have timely and adequate disbursements to improve efficiency of operations, maintain staff motivation and patient satisfaction with the services. The road levy must also now be accessed for the introduction and full capacitation of emergency medical services and injury management in the areas most hit by road traffic crashes, including along the busy highways and transport routes." the group said.
The group further advocated for the strengthening of public health infrastructure including referral, district and community centres saying the government must allocate funds towards improving basic health infrastructure in the urban, resettlement, mining and rural areas.
The country's public health infrastructure is archaic and apart from family health projects which provided district hospital infrastructure and some equipment, there has not been significant infrastructural upgrades, expansions or new works, despite significant population and disease burden increases.
"Contrary to provisions of the Public Health Act, the large cities are neither preventing nor managing infectious and other diseases. Harare and Bulawayo have downgraded services at their infectious diseases hospitals — Wilkins, Beatrice Road and Thorngrove infectious diseases hospitals — when they should have upgraded these facilities, built new ones as their urban populace and disease burden increased. Gweru and Mutare have non-functional infectious diseases hospitals, no laboratory facilities while Masvingo, Kadoma, Marondera, Kwekwe and Chitungwiza have none. Given their large and underserved (water, sanitation, waste management, electricity) populations which give way to preventable diseases and conditions, this situation is not tenable and certainly not in favour of the country achieving any health and development goals," the group said.
CWGH said priority should be on strengthening the referral, district and community health centres to promote preventive healthcare as well as the curative and rehabilitative interventions, given the current population health status which is characterised by high morbidity and mortality.
The group added that there should be promotion of partnerships with the private sector emphasising that the capacity of the private sector, including NGOs, was not being fully mobilised due to lack of clear guidelines and rules of engagement.
"As the country moves towards UHC and economic empowerment for development, it is important that the private sector be more involved in both supply of health services and demand for health services. The participation of the private sector in the health sector will help to bridge the huge resource deficit and provide state-of-the-art equipment at public health institutions, while also ensuring their improved involvement in the national health delivery system including reporting statistics on their individual and joint activities. There is, however, need for a strong regulatory and governance framework for PPPCs in the health sector."
The group also called on the government to address the human resources situation, the essential drug shortages and improve health information management systems including research. While health has long been recognised as a key aspect of development, investment decisions around health have too often been evaluated purely as a cost, analysts said.
This article first appeared in the Weekly Digest, an AMH digital publication
Follow us on Twitter @NewsDayZimbabwe
Related Topics