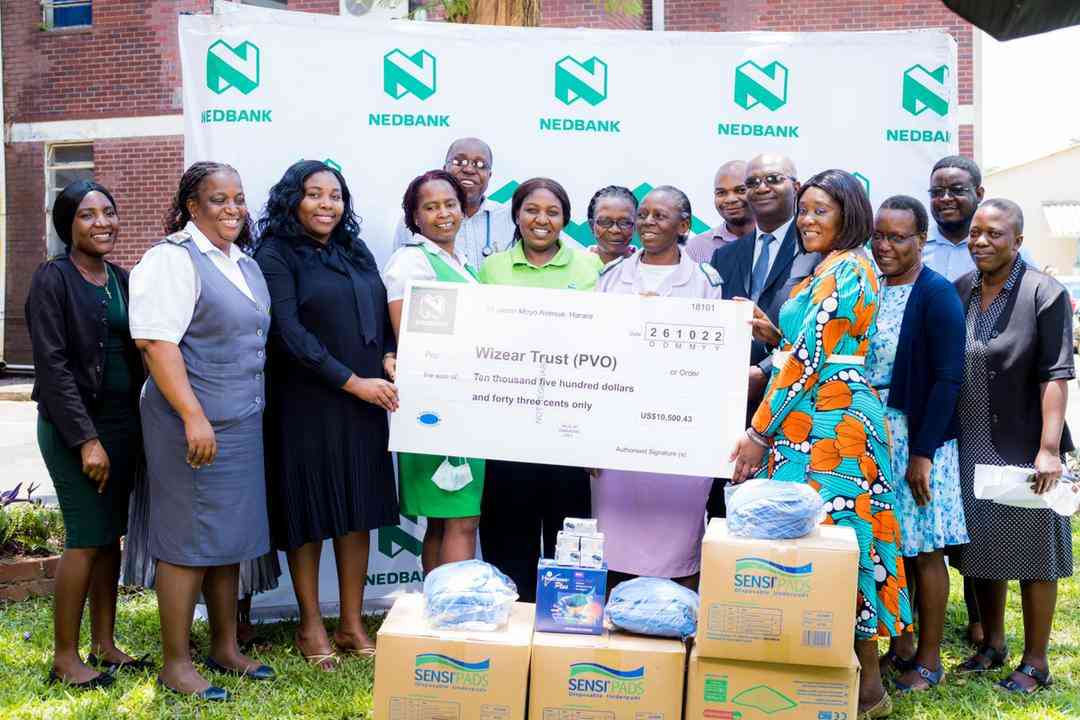 Nedbank Zimbabwe presented a donation of USD10 500.43 in favour of Wizear Trust, an organisation which specializes in Ear, Nose and Throat surgeries at Sally Mugabe General Hospital in Harare.
The Wizear Trust was founded in April 2008 by Dr. Clemence Chidziva, an Ear, Nose and Throat Surgeon based in Harare. It was established as a philanthropic gesture, working closely with public hospitals in Zimbabwe. Dr Chidziva noted with concern that the prevalence of impaired hearing and ear disorders in Zimbabwe has been escalating at a rapid pace and it is also disheartening that the majority of patients are unable to meet the financial obligations to get the necessary ENT and Audiological services to treat their conditions. To this end, Wizear Trust mobilised a group of Zimbabwean
Medical professionals in ENT, Audiology, General medicine who were all brought together by a basic desire to help the underprivileged with Hearing Health Care in Zimbabwe.
Nedbank heeded the call and partnered Wizear Trust to assist towards the purchase of surgery consumables towards this cause. Communities from far and wide traveled to the hospital to receive the much-needed surgeries and medical support. The donation assisted the doctors at the ear camps where they carried out Audiometric screening to assess the extent of hearing loss in each patient they attended to and proceeded with surgeries for urgent need. Wizear has an ongoing outreach program where they run ear camps in Zimbabwe. The doctors carry out free Audiometric Assessments and Minor
ENT procedures. Their sustainable Hearing Aid Distribution program has seen many economically vulnerable Zimbabweans regain their hearing. They also run workshops on Ear Care to educate Primary Health Care Providers.
The Nedbank Senior Manager – Marketing, PR & Communications, Mary-Anne Kwidini, highlighted how health and well-being are a key sustainability pillar within the Bank to sustain communities and ultimately the health of current and future generations. She further highlighted that as "Money Experts who do good", Nedbank has a duty to give back to the communities in which it operates, by partnering likeminded individuals and organisations for the greater good of society. She further intimated that the Bank had recently supported public Hospitals in maternal healthcare by purchasing infant NICU incubators for Harare Hospital and United Bulawayo Hospital with these initiatives to improve the livelihoods of our partners and stakeholders within our communities.
At the handover ceremony, Dr Matarutse, an ENT specialist and consultant who works with Wizear narrated a typical day at the hospital from the screening process to the carrying out of multiple procedures. She cited that parents and their children travelled from as far as Binga, Chipinge and Mudzi to have their children attended to. Some of these parents have sold their livestock to raise bus fare to travel to Harare to access this free service which is only made possible from partnerships such as the one between Nedbank and Wizear.
The Wizear Program Manager, Mrs Nkomo also highlighted that the bloodline of the Trust continues to be donations from well-wishers like Nedbank. The Wizear Trust felt the great boost brought about by the donation. The program manager also mentioned that the demand for the services offered by Wizear is on the increase.
Mrs Nkomo said the main agenda for Wizear is to save lives and this requires teamwork and resources. She extended their heartfelt gratitude towards Nedbank's gesture and highlighted that they were looking forward to bigger camps through sustainable partnerships going forward
The Acting Chief Executive Officer Dr Mungani thanked Nedbank for the gesture and pointed out that the donation would go a long way to assist in serving children from different disadvantaged communities.
Related Topics