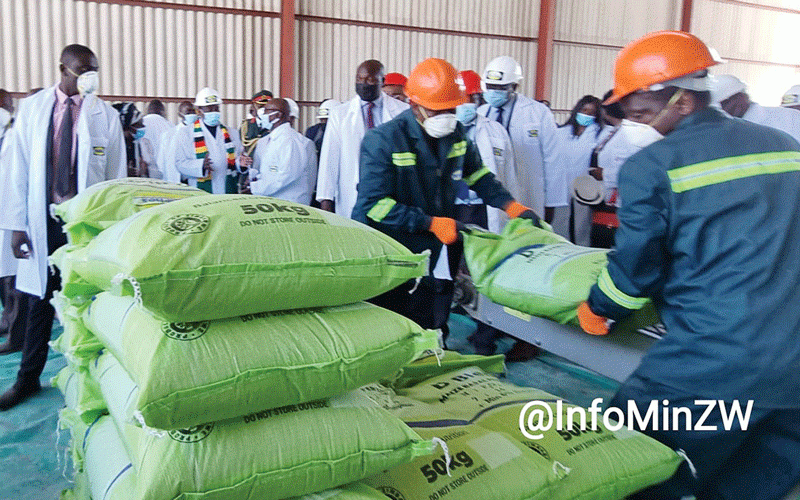 THE local fertiliser industry has invested US$55 million to unlock stocks under collateral management authority, a Cabinet minister has said.
In a State of Industry and Commerce report submitted to Cabinet recently, Industry and Commerce minister Sekai Nzenza said the financial package would unlock stocks on a monthly basis.
"The local industry requires US$55 million per month to unlock stocks under Collateral Management Authority (CMA) and utilise the existing capacity. Further, there is need for timeous signing of contracts on various government programmes to ensure proper planning," she said.
Farmers in the country have since raised concern over shortages of top-dressing fertiliser, a key input for maize production.
Farmers told NewsDay Farming that if the situation is not urgently addressed, the shortages could lead to poor harvests this year.
However, Nzenza disclosed that the industry was busy enhancing local production to curb fertiliser shortage in the country.
"Plant refurbishment is underway by various players in the sector. ZimPhos poured US$2,2 million for blending and granulation plants for basal fertilisers to meet 50% of national requirements and save over US$250 million per year in forex," she said.
"FSG invested US$1 million on a blending plant to increase blended fertiliser output, while Sable Chemicals used US$11 million Afrexim facility for plant upgrade and procurement of tankers, including US$33 000 Sadc COVID-19 facility for sanitiser production to increase production of ammonia nitrate."
Zimbabwe requires 400 000 tonnes of basal and 380 000 tonnes of top dressing ammonia nitrate (AN) fertiliser, but has capacity to produce 1 500 000 tonnes and 240 000 tonnes of basal and AN, respectively.
In addition, the report revealed that the increase in the prices of fertiliser was likely to adversely affect farmers.
"The local industry is producing. However, to mitigate shortages, we still need to import, but at higher costs. Price of ammonia rose from US$700/tonne to US$1 500/tonne during the beginning of 2022 and this will affect the farmer," Nzenza said.
The consolidated stock holding for the Zimbabwe Fertiliser Manufacturers Association players stands at 432 182 tonnes.
Most of this stock, for example, is 82% under CMA, awaiting nostro funding to enable its release for sale. The stock under CMA arrangement includes stocks that are in Zimbabwe and outside.
Related Topics