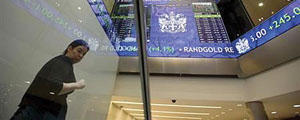 NEW YORK — Stocks were little changed on Friday following the largest one-day drop in almost two months a day earlier, with main indexes on track to post their largest weekly decline in months on worries over the health of consumer spending and corporate profits.
Reuters
Nordstrom Inc on Thursday joined the list of consumer companies reporting lower-than-expected revenue, and the luxury department store chain cut its full-year sales and profit forecasts. Its shares fell 2,7% to $57,72.
From Wal-Mart and Gap to Macy's and McDonald's, chains that cater for middle and lower-income Americans are feeling the pinch of an uneven economic recovery.
Investors are concerned the economic recovery is slower than they had hoped as corporate revenue growth has disappointed even as companies' bottom-lines have hit the mark.
"There's a few bargain hunters out this morning," said Rick Meckler, president of investment firm LibertyView Capital Management in Jersey City, New Jersey, but "we haven't seen the revenue growth the market was anticipating".
"We are unlikely to see a large-scale correction in the market right now, but it certainly is losing the momentum that took it to strong highs earlier this year," he said.
Adding to concerns, a survey showed US consumers were a bit less optimistic in August as sentiment retreated from last month's six-year high.
The Dow Jones industrial average fell 9,72 points, or 0,06%, to 15,102,47. The S&P 500 dipped 2,17 points, or 0,13%, to 1,659,15. The Nasdaq Composite Index edged up 4,61 points, or 0,13%, to 3,610,73.
The S&P and Nasdaq were on track to post their largest weekly declines since late June, and the Dow's drop was the largest for a week since late in April.
US Treasuries prices extended a rout that has sent longer-dated yields to their highest in two years as investors contemplate that more solid economic growth will lead the Federal Reserve to begin paring back its $85 billion a month in bond purchases.
The stimulus program has helped lift the equity market to record highs this year, and LibertyView's Meckler said the sharp adjustment in interest rates has made equity investors more cautious.
Data on Friday showed US housing starts and permits for future home construction rose less than expected in July, suggesting that higher mortgage rates could be slowing the housing market's momentum.
US non-farm productivity rose in the second quarter after a surprise decline in the first, separate data showed.
Green Mountain Coffee Roasters shares rose 2,3% to $75,60 after Nasdaq OMX said the company will replace Life Technologies (LIFE.O) in the Nasdaq 100 index on August 22.
Pandora Media shares jumped 7% to $21,25 following a bullish call on the stock from Goldman Sachs.