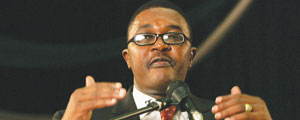 THE Ministry of Tourism and Hospitality Industry has accredited 65 countries out of 156 United Nations World Tourism Organisation (UNWTO) member countries ahead of the UNWTO General Assembly to be held later this month, a government official has said.
Report by Tarisai Mandizha
Zimbabwe and Zambia will co-host the 20th session of the UNWTO general assembly from August 24 to August 29 in Victoria Falls and Livingstone respectively. Government has so far spent over $4 million in preparing to co-host the event with Zambia.
Speaking at the TelOne Information Communication Technology sponsorship package handover ceremony on Wednesday in Harare, outgoing Tourism and Hospitality Industry minister Walter Mzembi said UNWTO's membership includes 156 countries, six associate members and over 400 affiliate members representing the private sector, educational institutions, tourism associations and local tourism authorities.
He, however, said the remaining 15 countries to be accredited was work in progress.
"To date we have accredited 65 countries on the Zimbabwean side which translates to an excess of 650 rooms or so. We have 15 countries on the waiting list and now we have to make available 121 additional rooms that we have to book in," Mzembi said.
Mzembi said government was also accrediting the business community.
He said preparations for the tourism indaba were almost complete despite an earlier plea for additional funding. He said hospitality for the international delegates would have first preference.
"We have to push non bona fide delegates for the general assembly out of their rooms to make room for our international guests. First and foremost, we have to accommodate our international guests and secondly we can accommodate ourselves," Mzembi said.
Speaking at the same event, TelOne acting managing director Ellen Chivaviro said last week TelOne commissioned the Victoria Falls fibre optic transmission link and had availed fast and low-cost broadband to the resort town.
"In preparation for the UNWTO conference, TelOne modernised the Bulawayo to Victoria Falls transmission route and commissioned fibre to all the buildings (FTTB) to all the needs of UNWTO General Assembly delegates as well as all current and future broadband needs of the resort town.
"This project is connecting major hotels, lodges, schools and businesses to the broadband highway," Chivaviro said.
She said TelOne had donated 11 direct lines to cater for the UNWTO secretariat and the secretary-general's office, two facsimile lines to cater for the UNWTO secretariat, free Internet connectivity for the secretariat as well as the media centre and desktop computers and laptops for the secretariat as well as the media.