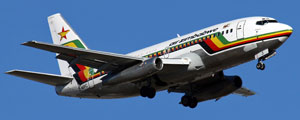 ZIMBABWE plans to have 40 airlines flying into the country by 2018, nearly trebling the current figures, Civil Aviation Authority of Zimbabwe (CAAZ) general manager David Chawota said yesterday.
Business Reporter
At the country's aviation peak in the period 1999-2003, 34 airlines were flying into Zimbabwe.
The number dwindled as the economic crisis prevailing then did not make economic sense for airlines to continue flying into the country. Currently 14 airlines are flying into Zimbabwe.
"We are saying if we could reach 34 [airlines] then, we can make it high. What we need to have is the necessary conditions for us to be able to accommodate other planes," Chawota said.
Chawota said: "Capacity is there, it's about efficiency.
"If Victoria Falls becomes an entry point for long haul, already that will give us capacity as a destination," he said.
CAAZ is currently carrying out expansion works at Victoria Falls International Airport so that bigger planes are able to land. The cost of the expansion is $150 million and work would be completed next year.
Chawota said Zimbabwe would use next month's Routes Africa Forum to lure more airlines.
Zimbabwe is hosting the 9th edition of the annual meetings of airlines, airports, aviation suppliers and tourism authorities from June 22 to 24 in Victoria Falls.
In an update to stakeholders on the preparations for the event, permanent secretary in the Ministry of Transport and Infrastructural Development Munesu Munodawafa said government expects 400 delegates for the annual meeting. Last year's meeting in Uganda attracted 330 delegates.
Notable airlines that have confirmed participation include American Airlines, Emirates, Etihad, Turkish Airlines, South African Airways and Ethiopian Airlines.
Eight international airports have confirmed participation at next month's event notable among them Birmingham, Munich, Frankfurt and Copenhagen. Chawota said Zimbabwe has passed the final assessment test to host the event.
Since the inception of the multicurrency regime in 2009, Zimbabwe has been on a charm offensive to international airlines to fly into the country.
"We continue talking to airlines all over the world. We have got American Airlines, they are coming here so we will engage them to know their interest in Africa," Chawota said.
A representative of EgyptAir noted that the push to lure more airlines should work alongside the expansion of Harare International Airport which only has three aerobridges. This, the representative said, had created problems in parking.
An aerobridge is an enclosed, movable connector which extends from an airport terminal gate to the plane, allowing passengers to board and disembark without going outside.
In response, Chawota said the original design of seven aerobridges would be pursued on the international terminal.
He said there are discussions underway with stakeholders for future expansion beyond the seven aerobridges.