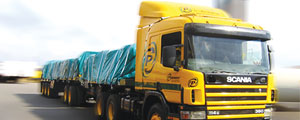 PIONEER Corporation Africa Limited has upped its stake in tyre manufacturer Trentyre Zimbabwe to 51% as the listed transport and logistics company expands its horizon.
BUSINESS REPORTER
"The company was an associate of Pioneer and the transport and logistics company recently acquired 10% equity in the business from Goodyear and its affiliates thereby bringing it under our local control," group company secretary Moreblessing Mukamba said in a notice on Sunday.
Pioneer had 41% shareholding in Tredcor Zimbabwe (Pvt) Ltd trading as Trentyre Zimbabwe.
"The directors of Pioneer Corporation Africa Limited, in response to cautionary statements released on 20th March, 2014 and 7th August 2014 are excited to announce the acquisition of a controlling interest in Tredcor Zimbabwe (Pvt) Ltd trading as Trentyre Zimbabwe through Clan Services (Pvt) Limited," Mukamba said.
Mukamba said all regulatory approvals have been obtained. "The directors strongly believe this will add another dimension to our existing services within the group and look forward to building and improving relationships with customers, suppliers and stakeholders," Mukamba said.
Trentyre is one of the largest tyre service providers in Southern Africa. Established in 1948, the firm manufactures new multi-brand tyres, retreaded tyres, and wheels and offers allied services to cater for its customer needs.
In the financial year ended December 31, 2013, Pioneer's revenue eased 11% to $23,682 million from the same period last year.
It narrowed its loss to $3,2 million from the $7 million recorded in 2012.
"The subdued operating performance of the group is now set to be boosted in 2014 with the acquisition of the Unifreight business and the extra and varied operating units that will now form part of the group's results," board chairman Patrick Chingoka said in a statement accompanying the financial statement.
Chingoka said the group was optimistic that the Zimbabwe economy and industry would improve in the medium-to-long-term saying it was positioning to take advantage of that improvement.
Pioneer wholly owns Trek Transport Trading ad Skynet Worldwide Express, Pioneer Transport (Pvt) Limited, Clan Transport Company, Clan Properties and Birmingham Road Property, among others.
Pioneer shareholders will hold a meeting on September 23 to approve the change of company's name to Unifreight Africa Limited.