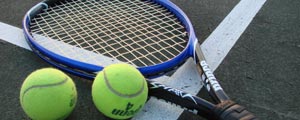 FORMER Zimbabwe tennis star Wayne Black yesterday paid tribute to the Davis Cup team which on Saturday made the nation proud by clinching a spot in the 2015 Euro/Africa Group II in Cairo, Egypt. DANIEL NHAKANISO
The five-member Zimbabwe team, led by non-playing captain Martin Dzuwa, beat Namibia 2-0 in the Africa Group III promotional play-offs to qualify for the 2015 Euro-Africa Group II.
Led by the United States-based duo of Takanyi Garanganga and Benjamin Lock and the Spain-based pair of Mark Fynn and Tinotenda Chanakira, the young Davis Cup side won all their matches enroute to securing promotion.
The victory, which ended an eight-year wait, brought back fond memories of the country's fairytale run in the premier international team event over a decade ago.
Zimbabwe's best performance was reaching the Davis Cup World Group quarter-finals in 1998, when it lost to Italy after defeating Australia 3-2 away in the first round.
Black, who returned to settle back in Zimbabwe after retiring from the professional circuit, was part of that Zimbabwe Davis Cup team together with his brother Byron, Kevin Ullyett and Genius Chidzikwe.
In an interview with NewsDay Sport, Black said the current Zimbabwe team had the potential to do well in the competition. "I'm very happy for the guys for securing promotion. We have got a good young team now. Playing three-four matches away in foreign conditions is not an easy task but they did well and we now need to build on that success. I don't see why we cannot hold our own," he said.
Black said promotion to the 2015 Euro/Africa Group II would open new opportunities for the sport as it seeks to rediscover its former glory.
"Obviously, playing at home will be a massive boost not only for the players, but also the sport in general. As a player, it's always difficult playing away from home, but the promotion means we will now be hosting some of the  matches.
"Besides also raising the awareness of the sport, it [playing at home] will also bring in the much needed sponsorship for the team because without money you cannot go anywhere," Black said. The former international sports star, who returned to Zimbabwe in 2009 after calling time on his professional career, said he was grooming his two children Joseph (8) and Brooke (6).
Meanwhile, the Sports and Recreation Commission (SRC) also applauded the Davis Cup team for its success in Egypt.
"The SRC has received Team Zimbabwe's victory at the Davies Cup Tennis Cup Qualifiers held in Cairo, Egypt with joy and celebration that Zimbabwe's glory is being rediscovered," SRC director general Charles Nhemachena said in a statement.
"On behalf of the SRC board, management and staff, I would like to congratulate our tennis team for winning the Davis Cup qualifiers. This is indeed a demonstration that the development programme that was embarked on by Tennis Zimbabwe is beginning to pay off. It is our hope that the various sponsors who may have been sitting on the fence will now recommit themselves once again to Tennis," he said.