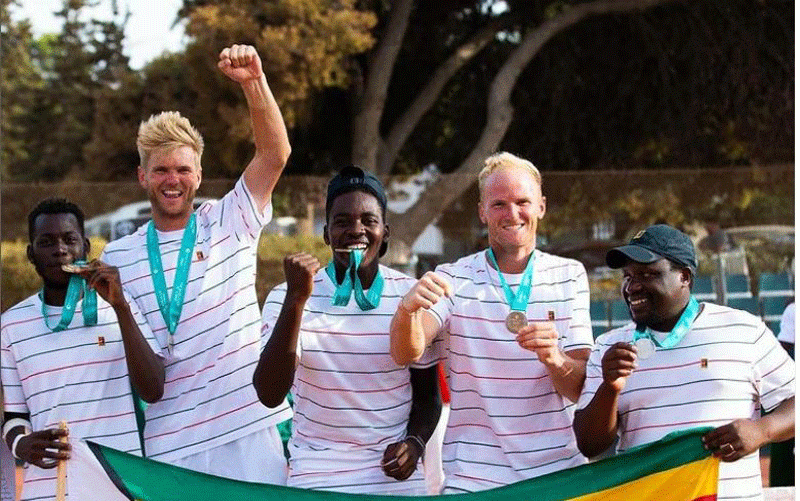 TENNIS Zimbabwe (TZ) have paid tribute to leading financial services institution, Stanbic Bank, who bankrolled their Davis Cup tie against Uruguay at the weekend.
Zimbabwe hosted Uruguay at Harare Sports Club with the visitors winning the tie 3-2 to stay up in the World Group 2, while the hosts slipped into Group 3 after an enthralling contest that spilled into Monday due to rains.
TZ president Biggie Magarira expressed gratitude to Stanbic Bank who made the event a success by being the platinum sponsor of the event.
Magarira said the purse was used to pay for accommodation, transportation and other costs.
"Stanbic also spruced up the tennis facilities and in particular the main court to ensure that it was fit to host a world-class event such as the Davis Cup," said Magarira.
He said Tennis Zimbabwe was proud to be associated with Stanbic Bank.
"The Davis Cup is a major global event watched by over six million viewers and it was fitting that we had support from Stanbic Bank whom we now deem a partner, and we hope the institution will continue supporting us in years to come," he said.
Stanbic Bank's head, brand and marketing, Palmer Mugavha said the institution was pleased to play its part in supporting events ofnational and global importance bearing in mind the prevailing economic situation.
Mugavha said in addition to having sustainable corporate social investment (CSI) initiatives, Stanbic was keen to assist in selected key national events such as the Davis Cup.
"In September last year, Stanbic bankrolled the Central-South Africa Hockey qualifiers for the 2023 Africa Games scheduled for Ghana in August 2023, both our men and women's teams qualified.
"Stanbic Bank has an unwavering commitment to contribute to the welfare of the community it operates in through well thought CSI strategy under the three pillars of health and sanitation, education and sports. Our keen interest in propping up sporting initiatives was the reason we did not hesitate to play this significant role in ensuring the Davis Cup is run smoothly," said Mugavha.
Related Topics