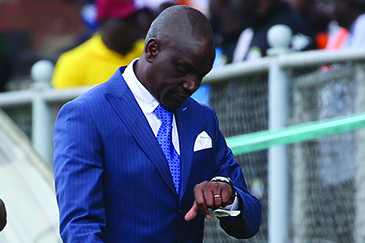 DEVOID of any hope of winning the Castle Lager Premier Soccer League this season, the country's big three, Dynamos, Caps United and Highlanders turn their attention to the Chibuku Super Cup hoping to clinch what has been elusive to all three of them.
BY HENRY MHARA
The trio's appetite for the cup has been whetted by their dismal failure in the league where they all slipped out of contention way too early for their own liking.
All three were early casualties last term, tumbling out in the first round, and none has managed to win this competition since its rebirth.
Relegation-threatened Dynamos host Bulawayo Chiefs at Rufaro Stadium, Lloyd Chitembwe's Caps United welcome ZPC Kariba and Highlanders are also at home against Yadah this weekend, as all three are hard pressed to make amends for a shoddy job in the league.
It is Dynamos though who are most desperate to win the cup, to at least atone for what has been a mediocre campaign this year, which could still end horribly for them as they are facing a grim possibility of relegation.
Currently two points off the relegation zone with just eight games to the end of the season, the Harare giants are far from assured of a place in the league next season.
They will probably survive relegation at the end of it all, but that surely would not be enough to pacify their restless legion of fans who are increasingly becoming disillusioned by the path that their club has taken.
Thus, winning the country's biggest cup competition could offer some sort of consolation.
"This is the right time, time we were waiting for. This is the time we have to turn things around. Looking at how we are doing at training, everyone is ready for this tournament and we are all pushing and working 120% to do well," Dynamos defender Pakamani Dube said.
Their poor run has been reflected on the dwindling attendance at their home matches of late as supporters stay at home.
"We are looking forward to a good result. When things are like this, we have to stick together and make sure we pass this phase together. The fans and everyone associated with this badge should be together through this and push each other to try and turn around things. Everything is going to be fine by the end of this tournament, and we are also expecting a better performance in the league," Dube said.
Coach Lloyd Mutasa, whose future at the club is increasingly getting doubtful by each bad result, has also called for support from the disenchanted fans. "This is the time that we need everyone associated with the team to come together. We don't want a situation where people are only behind you when you are doing well, and turn their back on you when things are not going on well. We would want the Dynamos fans to be there for us in all situations," he said.
Worryingly for Dynamos, their recent performance in this cup has been dismal, crashing out at the initial stage in the last two editions. On both occasions, they lost to Bulawayo teams.
For Caps United, they have been the better performer among the three faltering giants. But at fifth position, and 19 points behind league leaders FC Platinum, the Green Machine know they have underperformed this season — and are also desperate for some kind of solace.
They also look at this competition as an easy route back into the African safari, having tasted the sweetness of continental football after representing the country in the Caf Champions League last year.
Apart from the $75 000 cheque, winners of the Chibuku Super Cup will represent the country in the Caf Confederations Cup next year.
"Playing in Africa for the first time was really a wonderful experience for the boys. That is a big motivation for them as we prepare for this tournament. Even though we lost several players after the adventure, some are still around and we have been telling them that this is another opportunity to play again in Africa. There is still a lot to play for. It is another opportunity to represent the country. They are all looking forward to the experience," Caps United technical director Nelson Matongorere said.
While there is a general consensus that Highlanders have under-performed this season, coach Madinda Ndlovu has argued that the squad is still under construction and is not ready to win the league though it has made good progress.
But he has said that they are targeting success in the cup competition, as they try to wipe out disillusionment among some of the fans.
Chibuku first round fixtures
Today: FC Platinum v Chapungu (Mandava), Ngezi Platinum Stars v Herentals (Baobab), Black Rhinos v Nichrut (National Sports Stadium), Dynamos v Bulawayo Chiefs (Rufaro)
Tomorrow: Highlanders v Yadah (Barbourfields), Caps United v ZPC Kariba (National Sports Stadium), Triangle United v Shabanie Mine (Gibbo)