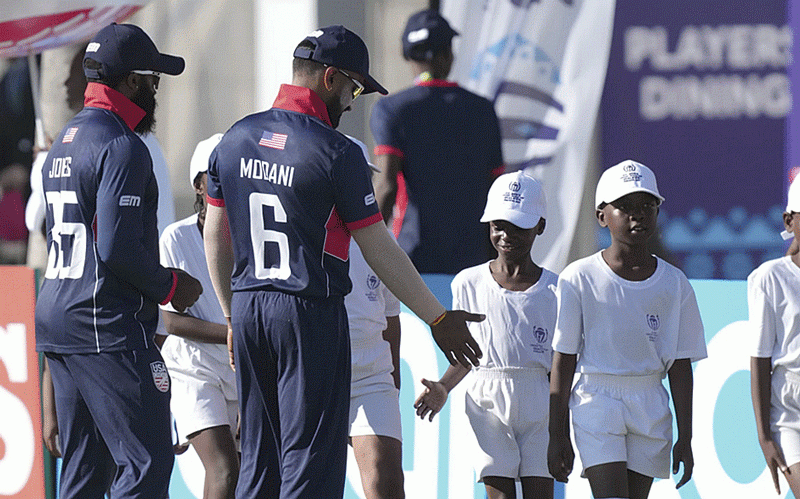 BILL Flower realised 30 years ago that cricket wouldn't survive, let alone bloom, in Zimbabwe unless it reached out to the country's Black majority and found a place in their hearts.
Part of his plan finally came together two weeks ago when Takashinga Cricket Club, set in one of the country's oldest Black townships, hosted an international game for the first time.
The spiritual home of Black cricket in Zimbabwe, where players looked after the pitch and planted the grass themselves in its early days, finally became a fully-fledged international venue when West Indies beat the United States in a Cricket World Cup qualifying game on June 18.
It was a landmark match in which Takashinga lived up to its name, which means "We persevered" in the local Shona language.
"It's absolutely fantastic and I know that my father would be very proud to witness it, and I'm certainly proud," said Bill Flower's son, Andy, the former Zimbabwe captain and Ashes-winning coach with England whose impressive resume includes once being a Takashinga player himself.
Zimbabwe would have qualified for the World Cup to be held in India later this year if it had beaten Scotland on Tuesday in the qualifying tournament it is hosting. That makes Takashinga's emergence as an international ground even more special, even if Zimbabwe, a regular participant at the World Cup, didn't play there during the qualifiers.
Bill Flower started in the early 1990s, digging deep into his own pockets to coach Black children from Harare's Highfield high-density suburb where Takashinga is. Then, there were hardly any cricket facilities in Highfield and families couldn't afford to send their children to Harare Sports Club to practice. Bill Flower used his reputation as a respected coach, and his own car, to take them to the prestigious club.
In Highfield, he discovered talents like Tatenda Taibu, who was nine when he joined Flower's coaching squad. Taibu went on to become a Zimbabwe test captain.
Bill Flower also found there was potential in Highfield beyond players. A small group had just started Takashinga Cricket Club and it was an obvious opportunity to build something bigger.
Andy Flower, then Zimbabwe's best player, took his father's lead in identifying Highfield as crucial for cricket in the southern African nation, which was under white minority rule until 1980 and struggled with racial tensions years after. A big-name white player, decided to join the relatively unknown Takashinga team.
"I knew how committed they were in building their club," Andy Flower said. "I thought it was helpful to have some of my experience, go there and work with them at training, during games, talk to them in the dressing room."
"I thought it was something that would help to accelerate their development. I thought the bonus would be the mixing of Black and white. That was a special time in my life."
Takashinga has produced more and more players, including five national team captains so far. Stephen Mangongo, one of the club's founding members, became Zimbabwe coach.
"Takashinga subconsciously spread self-belief among the generality of Blacks to take cricket seriously countrywide," said Mangongo.
But the transformation wouldn't be complete until cricket was played at the highest level in Highfield.
The fixture list didn't quite work out. It wasn't Zimbabwe, which has five players in the current team with Takashinga connections, that played on the ground's international debut. But West Indies was a good second-choice, a team that has won two World Cups and advanced Black cricket internationally more than any other.
"I'm so excited to finally watch them live. I hope to watch more big games here," said Sakina, an eight-year-old Black girl from Highfield who was at Takashinga for that landmark West Indies-US game and rooting for West Indies, which won by 39 runs but later failed to qualify for the World Cup.
Sakina's school is a couple of streets from Takashinga and she plays cricket at an academy set up by Elton Chigumbura, one of the former Zimbabwe captains who played for Takashinga.
"My dad's passion is football, but I love cricket more," she added. "One day I want to play for Zimbabwe and play many games here at Takashinga."
While Sakina is a perfect example of Takashinga's ability to influence young lives, the club struck chords across all generations.
Now 50, Highfield resident Nathaniel Mavima knew nothing about cricket until the club started gaining recognition in the early 2000s.
"I've been a big fan for 20 years," Mavima said. "Over the years, this ground has become more of a community centre."
Hamilton Masakadza, another Takashinga success story, who played for Zimbabwe for 18 years, said it was "bittersweet" that he missed his old ground's international debut because of his current work as Zimbabwe's director of cricket.
But he remembered the day it was officially opened in 2003 by West Indies great Brian Lara, whose team was on tour and using Takashinga as a practice venue. A plaque recognising the moment one of the best players to pick up a cricket bat opened the ground still hangs in Takashinga's club house.
It took another two decades to host international cricket and Trevor Garwe was never going to miss the moment. A former Takashinga bowler who played one game for Zimbabwe in 2009, he was back at his old club working as a venue manager for the World Cup qualifying tournament.
He said the first game was for the young people of Highfield who still can't afford to watch the sport they love at other stadiums.
"Takashinga has brought it home," Garwe said.
Related Topics