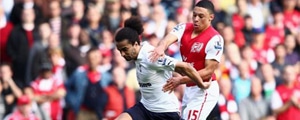 For many Arsenal fans in recent times, the beginning of the premier league season is a time filled with hope, however in this installment of the world's most watched football league, many gunners fans will be calling for the head of manager Mikel Arteta. After a record breaking transfer window, the Gunners are yet to secure points after their opening two fixtures. 
In the twilight of Wenger's era, and even during Unai Emery's tenure, Arsenal tended to fare quite well in the opening weekends of the Premier League. Generally we'd see the Gunners put on a fabulous display beating minno teams, and rising up the Premier League rankings, getting more than a handful of fans excited and hopeful for the season that would follow. 
This, in the past, was always done with a limited transfer budget. For the last decade, Arsenal's transfer activity could be described in one word. Disappointing. In the last 10 years, aside from a handful of players (like Özil, Sanchez, Aubamayang, and Lacazette), the Gunners have failed to bring in players capable of selling shirts. 
Despite this however, they managed to perform in the opening weekends of the Premier League. This however, has not been the case in the 21/22 season. After a record breaking 129 million transfer window, rendering the North London club the biggest spenders in the league, they are still yet to earn a point in the EPL, and are currently sitting fast in the relegation zone at 19th. 
Generally outspent by clubs like Chelsea, Liverpool, City and United, the Gunners tend to be rather tame when it comes to transfer activity. Their business is generally characterised by signing young hopefuls, who have impressed in unknown leagues. While this has worked in some cases, it is generally felt this policy is most successful when the starting 11 is well established and able to win games. It's a tall order to expect a low experienced teenager to come in and effect change. 
In this record breaking transfer window, many fans have questioned whether the money dealt out has been well spent. For 129 million, Arsenal have signed a young Belgian midfielder from Anderlecht, a second choice right back from Benfica, a recently relegated Goalkeeper (who has now been part of two teams to have been relegated) from Sheffield United, an up and coming (but yet to be proven) defender from Brighton, and an exciting former loanee from Real Madrid. 
Martin Odegaard and Albert Sambi Lokonga  are arguably the only two signings that have shown any signs of getting fans excited. Many were hopeful by the signing of Ben White, but without an established authoritarian like centre half  partner, many feel that the English international may struggle in Arsenal's Premier League campaign. 
There are many who believe that Arsenal are in for a torrid time this season. They face Man City next, who without doubt have the best squad in the Premier League. After a loss to Brentford, and a poor display against Chelsea, bookmakers everywhere in the world, from online betting sites in South Africa, to brick and mortar betting shops in the UK have all but discarded Arsenal's chances at beating the reigning champions. 
There are however a handful of fans and pundits alike out there who feel that these signings can in fact effect change. On the positive side, each of the signings coming in are young, and are coming into real problem areas that Arsenal have struggled with in previous years. 
Only time will tell, but as it stands, the Gunners look as though they're in need of a miracle to salvage a season and secure European football. It is always sad to see a club that has seen so much success in the past deteriorate. All of football hopes that they can one day retain their former glory.