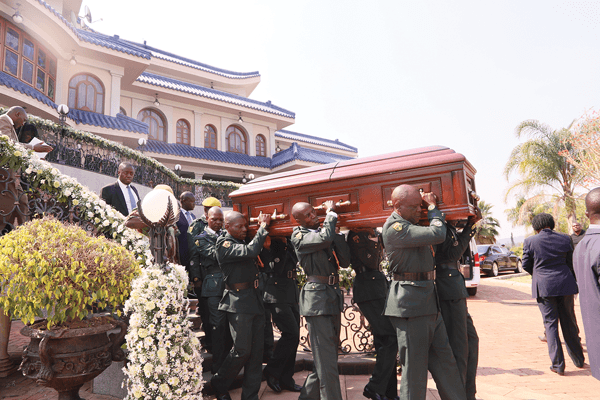 By Everson Mushava
FORMER President Robert Mugabe will be buried at the National Heroes Acre in Harare in about 30 days, after the construction of a special mausoleum, his nephew said yesterday, extending the drama over Zimbabwe's founding leader.
Mugabe, who ruled Zimbabwe for 37 years until he was ousted by his own army in November 2017, died in a Singapore hospital a week ago aged 95.
There will now be no ceremony on Sunday as earlier announced and Mugabe's body heads to Zvimba, his ancestral home for the family to perform their rituals, Leo Mugabe said.
A fight over his burial place has threatened to undermine his successor, Emmerson Mnangagwa, Mugabe's former deputy who conspired to topple him and expose deep rifts in the governing Zanu PF party.
"The government and the chiefs went to the Heroes Acre, showed each other where President Mugabe is going to be buried, and that place would take about 30 days to complete," said Leo Mugabe, a nephew of the former president who has acted as the family's spokesman.
"So what that means is the burial will take that long," he said. Mnangagwa and the ruling Zanu PF party have wanted Mugabe buried at a national monument to heroes of the liberation war against white minority rule.
Such a ceremony could give Mnangagwa a chance to show that the party is united behind his political and economic agenda.
But some relatives, expressing bitterness at the way former comrades — including Mnangagwa — had ousted Mugabe, had pushed for him to be buried in his home village rather than at the shrine.
Mugabe's body will be preserved until the burial, Leo said.
Asked whether a mausoleum or similar structure would be built for Mugabe, the nephew responded: "Yes, something like that", also disclosing that the burial site will not be next to the one of the former President's first wife, Sally, who died in 1992.
"It's a totally different site," he said.
The decision came after marathon meetings at the Blue Roof residence since Thursday when President Emmerson Mnangagwa met with former First Lady Grace, while at the same time the Zvimba chiefs were also meeting to deliberate on Mugabe's burial site.
Mnangagwa wanted a National Heroes Acre burial for Mugabe, while the family wanted a private burial at his ancestral home, in line with their tradition, arguing that he was a "chief".
After the impasse on Thursday morning, government dispatched another team comprising Justice minister Ziyambi Ziyambi and Zvimba MP Phillip Chiyangwa to further negotiate, with former Mines minister and Mugabe relative Walter Chidhakwa also being summoned by government that same evening for deliberation.
Yesterday morning, Mugabe's close ally and former Reserve Bank of Zimbabwe governor Gideon Gono was at the Blue Roof to meet the chiefs and an announcement was made thereafter that Mugabe would now be buried at the national shrine.
After the meeting, Leo, accompanied by Gono, told reporters that: "The family and the traditional leaders have agreed that he will be buried at the National Heroes Acre. There are things that the chiefs want to be done at Heroes Acre, those will take time.
"The issues to do with a private burial, I think those issues still are there. Heroes Acre, yes, but perhaps it will still remain private at a time to be advised. It's definitely post-Sunday. I would want to also dispel rumours doing rounds that the chiefs were paid. They were not paid. It's total, absolute nonsense."
Gono said Mugabe's burial at the Heroes Acre was not an option.
"It is something agreed upon by all parties to the matter comprising the former First Lady, Mrs Grace Mugabe, and immediate family and relatives, the Mugabe extended family, the Zvimba chiefs and their families, the Gushungo clan, the Marufu clan, the sekurus from both sides, friends and relatives. All are very grateful to HE President ED Mnangagwa, Zanu PF and all other political parties, government and all people of Zimbabwe and beyond for honouring the legend in the manner unfolding," Gono said in a statement later in the day, saying he had "authority" to make such a pronouncement.
He denied friction between Mugabe's family and Mnangagwa.
Several heads of State and former heads of State are expected to arrive today for Mugabe's funeral at the National Sports Stadium.
Additional reporting by Reuters