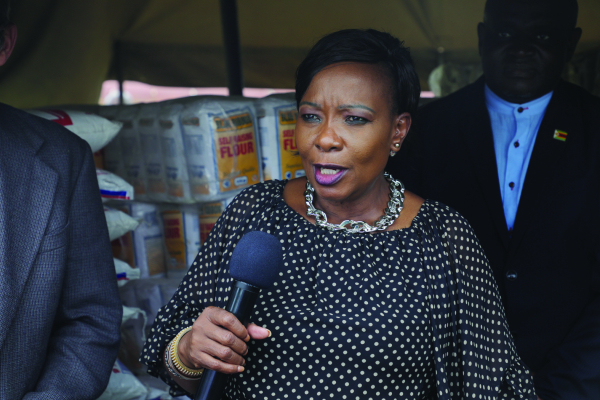 FIRST LADY Auxillia Mnangagwa has urged traditional leaders to severely punish returnees and deportees who evade testing for COVID-19 or escape from quarantine centres.
BY RICHARD MUPONDE
Over 190 people are reported to have escaped from quarantine centres housing returnees and deportees from South Africa, Mozambique and Botswana.
The First Lady was addressing community members at Makhulela village in Bulilima district yesterday where she had gone to monitor projects she initiated for the San community and enlighten them about the dangers of COVID-19. She also donated foodstuffs and blankets to the elderly.
"Chiefs, we ask you to exercise your powers and see how you can punish those who sneak into the community without being tested or escape quarantines centres. These people have become a danger to our communities. You should also have a book to record those who are returning home from neighbouring countries," she said.
"You shouldn't keep these people because you risk contracting the disease. All returnees should produce a certificate of clearance. Those without should be reported to the police," the First Lady said.
Also addressing the same gathering, Bulilima West legislator Dingimuzi Phuthi (Zanu PF) expressed gratitude to the First Lady for remembering the San people, whom he said had been alienated for a long time.
"The love you have shown for these people is out of this world. No one has shown such great love for these people who had been alienated for long. You have initiated a clinic, a school and built a modern house, bought beds and sofas for the San headman, which has made them feel that they are equal to any other Zimbabwean," Phuthi said.
He also appealed to her to use her office as the country's health ambassador to influence declaration of Ndolwane
Hospital a referral hospital for Bulilima district.
Meanwhile, permanent secretary in the Home Affairs and Cultural Heritage ministry Aaron Nhepera said there was need to beef up security at quarantine centres.
He was speaking at Madziwa quarantine centre on Saturday. Nhepera said his visit was for assessing the centre's security state as cases of returnees escaping were on the rise.
"My visit was based on the need to assess the security on the only quarantine centre in Mashonaland Central province. There are a few issues that need to be improved like on security," Nhepera said.
In a related development, a Mount Darwin man Tichaona Mutema (33) from Madondo village escaped from Chipadze isolation centre in Bindura on Monday.
Four returnees have so far tested positive for the COVID-19 pandemic in Mashonaland Central province.