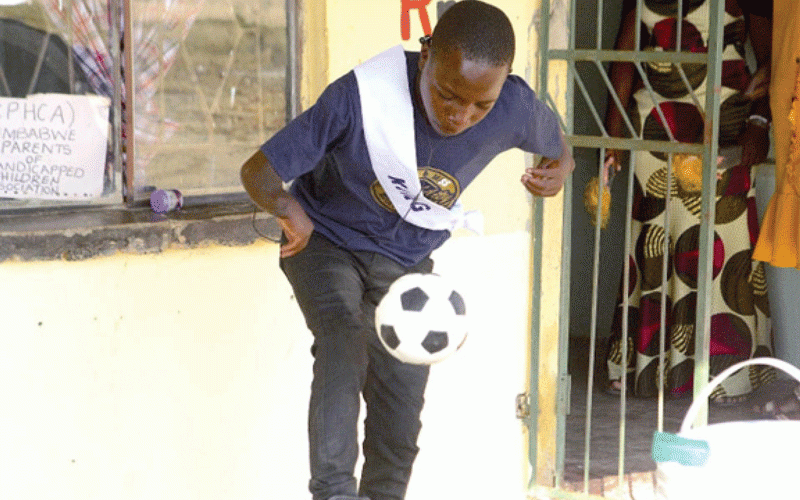 IN the fight against HIV and Aids, it is crucial to ensure that no one is left behind, including people with disabilities (PWDs). Zimbabwe, like many countries, faces the challenge of accurately assessing the uptake of pre-exposure prophylaxis (PrEP) and HIV prevention methods among this marginalised group. The availability of disaggregated disability-sensitive data is paramount in addressing this issue and designing targeted interventions.
Despite being sexually active as well as vulnerable to rape and other forms of sexual abuse, PWDs say they are overlooked in national HIV prevention strategies because policymakers do not perceive them as sexually active.
For Zimbabwe, oral PrEP was initially introduced as part of the United States' Presidential Emergence Programme For Aids Relief-funded Determined, Resilient, Empowered, Aids-free, Mentored and Safe, popularly known as the DREAMS initiative. It aims to reduce HIV incidence among adolescent girls and young women. PrEP was subsequently expanded to key populations, having sex with men, transgender people, female sex workers, sero-discordant couples, young women who sell sex and married people.
As oral PrEP delivery is scaled up across the country, an important consideration for policymakers, funders and programme implementers is how to optimise coverage and adherence among high-risk populations to maximise population-level impact.
In this opinion piece, I highlight the importance of collecting and utilising disability-sensitive data to enhance PrEP uptake and HIV prevention efforts in Zimbabwe.
Understanding unique needs of PWDs
Disability is a diverse experience and individuals with disabilities face unique challenges in accessing healthcare services, including HIV prevention. By collecting disaggregated disability-sensitive data, we gain valuable insights into the specific needs, barriers and disparities faced by different disability groups. This data allows us to design inclusive programmes and interventions that address the diverse requirements of persons with disabilities.
Accurate baseline assessment data
Reliable and disaggregated disability-sensitive data serves as the foundation for effective monitoring and evaluation of PrEP uptake and HIV prevention methods among persons with disabilities.
Without accurate baseline data, it is challenging to measure progress, identify gaps and tailor interventions to specific disability groups.
Disaggregated data enables us to track attendance, assess the effectiveness of outreach programmes and make evidence-based decisions to ensure that persons with disabilities receive the necessary support in their HIV prevention journey.
Addressing accessibility barriers
Disaggregated disability data helps identify accessibility barriers that hinder persons with disabilities from accessing PrEP and other HIV prevention methods. These barriers can include physical obstacles, lack of assistive devices, communication challenges, and discriminatory attitudes. By understanding the specific barriers faced by different disability groups, we can develop targeted strategies to remove these obstacles and ensure that healthcare facilities are fully inclusive and accessible.
Tailoring education and outreach initiatives
Disaggregated disability-sensitive data empowers us to develop targeted educational campaigns and community outreach initiatives. Accurate data on PrEP uptake and HIV prevention methods among persons with disabilities enables us to address knowledge gaps, misconceptions and stigma surrounding these interventions.
By providing disability-sensitive information and promoting understanding, we can empower persons with disabilities to make informed decisions about their sexual health and well-being.
Informed resource allocation
Disaggregated disability-sensitive data plays a vital role in resource allocation for HIV prevention. Without this data, it is challenging to determine the specific needs of persons with disabilities and allocate resources accordingly. By collecting accurate data, policymakers and healthcare providers can ensure that funds, services and interventions are appropriately directed to reach and support persons with disabilities. This will help bridge the existing disparities in PrEP uptake and HIV prevention methods.
Integration into national strategic documents
The inclusion of disability-sensitive data and information in national strategic documents related to PrEP and HIV programming is crucial. It is imperative that these documents explicitly address the needs of persons with disabilities and commit to inclusive approaches.
The utilisation of disaggregated disability data ensures that national strategies are evidence-based, responsive, and inclusive of the diverse needs of persons with disabilities. Incorporating this data into policy frameworks will drive positive change and foster a more equitable and accessible healthcare system.
Collaboration and partnerships
To effectively collect and utilise disaggregated disability-sensitive data, collaboration and partnerships are key. Close co-operation between disability organisations, HIV organisations, government agencies and healthcare providers is essential.
By working together, we can share best practices, exchange expertise and create a comprehensive approach that leaves no one behind in HIV prevention efforts. Collaboration strengthens data collection efforts, enhances data quality and ensures that interventions are inclusive and effective.
Conclusion
Disaggregated disability-sensitive data is invaluable in addressing the challenges faced by persons with disabilities in accessing PrEP and HIV prevention methods in Zimbabwe. By collecting and utilising this data, we can gain insights into the unique needs of different disability groups, develop targeted interventions, and allocate resources effectively. Disaggregated disability data ensures that PrEP uptake and HIV prevention efforts are inclusive, accessible, and responsive to the diverse requirements of persons with disabilities. Let us strive for a Zimbabwe where every individual, regardless of physical or mental condition, has equal access to life-saving HIV prevention methods. Only by working together and harnessing the power of data can we achieve this goal and create a more inclusive and equitable society.
Tafadzwa Maseva is a disability management expert and an Aids Vaccine Advocacy Coalition navigator. He is contactable on mobile: 077 259 2712 and email: [email protected]
Related Topics