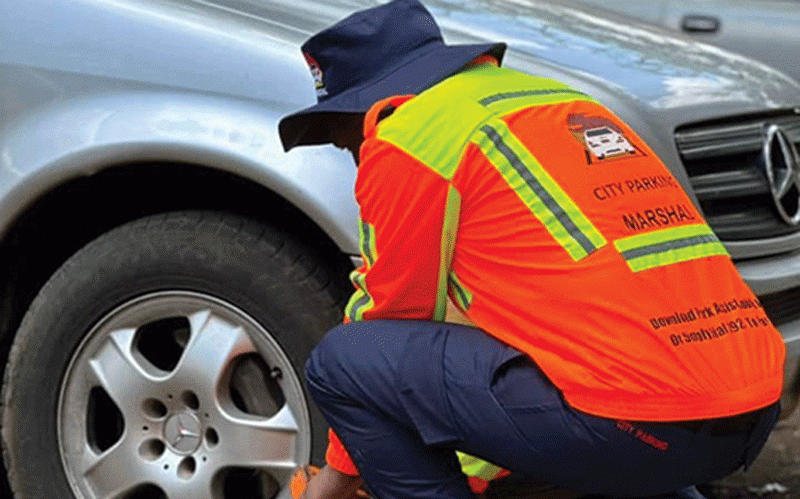 SAVAGERY, dogmatism and intolerance are all detrimental to service delivery. Many people suffer serious stress, depression and can end up dying because of experiences of life. While there are natural causes that contribute to desolation, man-made factors are the chief drivers of melancholia.
For years, motorists have cried but their cries are landing on deaf ears as they are tormented left, right and centre. Many people are affected by the brutality of those responsible for parking in Harare central business district, which is beyond human understanding.
Why is it that City Parking is allowed to willy-nilly torment motorists by charging exorbitant clamping charges of over US$57 yet in some cases the blame will be on the parking agents? If Harare City Council uses draconian by-laws to punish its residents, then it is not a considerate council.
The quoted laws are derived from the Municipal Traffic Laws Enforcement Act (Chapter 29:10), Harare by-laws 2005 Statutory Instrument 104 of 2005. These laws can be easily amended to suit what is happening today in terms of economic activities.
My heart bled one day when I saw a woman who had her car clamped when she had rushed to the rest room, leaving her Grade 5 child inside. The woman tried to negotiate with the officer that when she parked her car, there was no parking agent nearby so that she could pay.
No one bothered to listen to her. She started to shed tears because she had only US$5 in her wallet, yet City Parking was demanding US$57. I had to give her US$55 for the clamp to be removed since she was rushing to school.
I was shocked by the conduct of the officer involved, one Ngowe, operating at the Mbuya Nehanda Street/Charter Road intersection, who arrogantly declared that she was untouchable.
The callousness she exhibited is not synonymous with a woman and the impunity she showed was highly suggestive of a profiteering syndicate that is on the rampage.
Motorists in Harare are really in soup with the City Parking officers and the most painful thing is that many affected motorists are suffering in silence as some unscrupulous agents rip them off day in, day out.
Where are the city fathers to redress this situation? Why are motorists charged exorbitant fees of more than US$57 and towing charges of more than US$85?
These elephantine charges are only there for self-aggrandisement and not for fund-raising. Where is the mayor when citizens are being taken for a ride? Is this the service delivery that people expect when parking agents are busy profiteering at the expense of suffering residents?
If it is true that Easy Park only remits 26% of what it gets to Harare City Council, then residents are taken for a ride as a colossal 74% is going into the coffers of a private company at the expense of service delivery.
City Parking problems have been with us for the past 15 years or so with no solution in sight. Mayors have changed several times, town clerks have changed many times, many directors have been thrown into the fray, alas, no radiance has come up to today.
If city fathers continue showing serious signs and symptoms of this sadistic conduct, then government should whip the so-called leaders into line. There are two ministers that are relevant on such issues in Harare, that is, the Local Government minister and State minister for Harare Metropolitan province. Where are they when motorists continue to experience incessant financial haemorrhage at the hands of corrupt officials?
The city fathers should urgently stop the clamping madness.
We cannot allow ourselves to be abused by a few City Parking thugs who are bent on making super profits. Stop it!
Related Topics