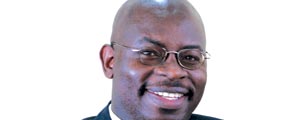 Perhaps taking a cue from international supermarket chain Tesco, the UK's largest supermarket Chain which has a distinct financial services footprint, OK Zimbabwe Limited has always exhibited an interest in the financial services sector.
Omen Muza
It once was involved in an in-store banking partnership with Century Bank.
That interest has endured over the years and resultantly, the company which increasingly thinks like a bank is seeking to provide diversified financial services to shoppers as part of its strategic competitive initiatives.
With multitudes of shoppers thronging its supermarkets daily, the company already has ability to leverage on this significant market to cross-sell its financial services products.
So why not go for it? A wider product and service offering would no doubt improve the overall customer experience, and perhaps entice this market to switch from mainstream banking in order to enjoy OK's one-stop-shop offering.
After all, no one wants to queue at the bank for cash when they can kill two birds with one stone by making banking a part of the shopping experience.
Rationale of foray into financial services The rationale of OK Zimbabwe's calculated foray into financial services appears to be to sweat its extensive network of physical assets (OK operates over 55 stores) and broaden revenue streams in an increasingly competitive, if not cut-throat retail sector.
In an economy characterised by severe liquidity constraints and low disposable incomes, diversification of income streams has become critical for survival.
In recent times, OK Zimbabwe has increasingly been wearing its financial services ambitions on its sleeves and this has been manifesting in the nature of the listed company's investments over the years.
Money transfer business Money transfer agency licence The area in which OK has made major strides is money transfer, mainly because it had the infrastructure and did not need to invest much capital. In 2012, the company finally ventured into financial services on its own account by acquiring a money transfer licence.
"Work in this area is expected to contribute to earnings in the last quarter of the financial year," OK said in its financials for the half year to September 30, 2012.
OK – Mukuru.com Easylink Money Transfer Bid To signify its firm intention to compete strongly in the financial services sector, OK has also had a go at bolt-on opportunities such as when it reportedly partnered Mukuru.com to offer about $3 million for Easylink Money Transfers (Private) Limited, Homelink's brand for money transfer business.
OK's fellow bidder for the stake was none other than FBC Holdings Limited, though the later was largely interested in the housing element of Homelink. When a retail company begins to compete with diversified financial services groups, it certainly can't be accused of harboring small ambitions.
OK-Kawena arrangement In mid 2013, OK Zimbabwe signed an agreement with a South African company, Kawena (Pty) Limited, to enable Zimbabweans resident in South Africa to purchase goods for family and friends back home.
Under the arrangement, which was launched in South Africa on June 26 2013 and in Zimbabwe on July 1 2013, Zimbabweans in South Africa simply visit a Kawena Office and make a payment into their beneficiary's OK/Kawena Shop Easy Card.
The payment is immediately electronically credited into the recipient's card in Zimbabwe which can then be used to purchase groceries at OK, Bon Marche or OK Mart stores.
The fact that the necessary authorisations for this transaction had to be granted by the respective Central Banks on both sides speaks volumes not only about how OK views itself, but also how it is viewed from a regulatory perspective.
Coming to think of it, that is perfectly understandable because elements of the role OK plays in the transaction would ordinarily be played by a financial institution.
The OK-Kawena arrangement effectively formalises transactions which were previously carried out through informal and often risky channels which are not amenable to proper record keeping. It therefore gives the country an opportunity to capture the monetary value of remittances from the Diaspora hence a more accurate Balance of Payments (BOP) position.
Since Zimbabweans in the Diaspora no longer have to buy physical goods in South Africa and courier them home, the arrangement creates savings for the country given the precarious BOP position, since money is remitted instead. With the arrangement expected to tap into a substantial amount of money per year remitted by close to 2 million Zimbabweans in South Africa, the stakes are quite high.
OK-First National Bank tie-up As the saying goes birds of a feather flock together. Accordingly, OK Zimbabwe is increasingly being defined by the company it keeps. In April 2013, one of South Africa's "big four" banks, First National Bank (FNB)  partnered OK to launch a mobile-based remittance service called FNB Zimbabwe Money Transfer allowing Zimbabweans to send money home using their mobile phones for collection at OK retail stores.
According to research carried out by FNB, Zimbabweans in South Africa send an average R6, 7 billion (about $740 million) annually to Zimbabwe.
The fact that this market has remained out of reach for many players in the financial services sector and OK is sinking its teeth into it means that it is punching above its weight and competing head-to-head with banks.
In December 2012 OK also entered into a similar arrangement called Instant Money International with Standard Bank South Africa. Clearly, OK Zimbabwe deals a lot with banks these days, so why not just think like one?
Feedback: omen.muza@gmail.com.  Omen N Muza writes in his personal capacity. You can view his LinkedIn profile at zw.linkedin.com/pub/omen-n-muza/30/641/3b8