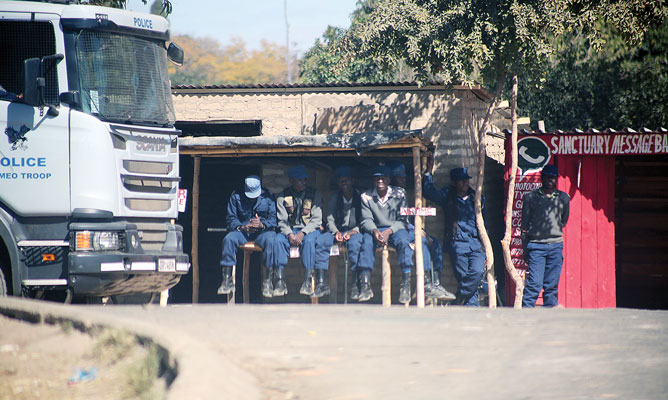 We give you updates of the Shut Down Zimbabwe protest.
Bulawayo Update
16:00 Mzilikazi supermarket looted
15:30 Anti riot cops regain ground, force youths to retreat with teargas. Retreating youths not giving in and are still throwing stones
14:30 Cops run for their lives in Makokoba after hundreds of stone throwing youths confront them.
Cops had fired teargas to force youths to disperse from the main Luveve road that leads to the CBD.
Youths were burning tyres blocking all vehicles from using the road.
The youths had scattered all over running away, but quickly regrouped carrying stones to confront cops.
The cops retreated.
Youths now going to CBD, and they are chanting "Lets go to Choppies."
Bulawayo youths force police to further retreat as march to CBD march gathers pace. Youths are stoning police water cannon, anti riot cops, china shop stoned and looted.
Police reinforcements sent in, more water cannons to block rioters from further entering CBD. Cops are stationed at Corner 2nd and 3rd Ave, Lobengula St.
Masvingo Update
Most shops in Masvingo were closed as business heeded calls for the stay-away.
Commuters were stranded as kombis were not plying routes, leaving many not going to work.
Only OK, Pick n Pay,CBZ and POSB were open, while clothing shops like JET, Truworths, Topics were all closed.
The city looked a ghost town as there was not much activity taking place.
The security services were however on high alert, doing the rounds in the city fearing protests.
Even shopping centers in residential areas were shut down, like Yeukai Business Center in Mucheke.
Schools were also closed as teachers were on strike and pupils were turned away.
Current situation Bulawayo
Around Bulawayo centre where cops are chasing away youths milling around and they have moved down to the volatile Egodini. Bulawayo slowly catching fire as we speak.
13:15 Police now retreating as hundreds of youths carrying stones have just emerged throwing back teargases.
One of the placards in Mufakose read…
12:50 Mutare Update
Most shops are closed in Mutare, long distance travellors are now stranded at Sakubva Bus station as transport operators have pulled off their vehicles.
There is a heavy police presence in Sakubva ,Chikanga and Dangamvura areas.
12:55 Bulawayo update In Makokoba youths have blocked the main road(Luveve road to the CBD),burning tyres in the middle of the road.
11:33 Bulawayo update Police have just arrested about five youths for staging a mini protest in the central business district,demanding that President Robert Mugabe steps down.
One of the arrested youths is Mthokozisi Ncube, the coordinator of the Bulawayo Youths Arise.
The youths sang "Mugabe must go" near the Joshua Mqabuko stature before anti-riot cops in a pick up van arrived and arrested them.
They have been taken to Bulawayo Central Police Station.
As they were being taken to the police station, the youths were singing "Mugabe must go"'.
11:20 Commuters traveling into town are having to fork out $2 or more for a trip that normally cost 50 cents
11:19: Follow our twitter hashtag #shutdownzim
News Flash: If you're in Zimbabwe, you've probably noticed that you WhatsApp is not working anymore. Several people have contacted us to inform us that their WhatsApp is not sending or receiving messages anymore. We have made some tests ourselves and can confirm that WhatsApp is not working for us too on any of the 3 mobile networks and ISPs we use.
According to the information we have, WhatsApp is currently not working on the following networks:
TelOne Liquid Telecom Zimbabwe ZOL Zimbabwe Telecel Econet
Source: TechZim
We have not tested and have not received any information on the other networks so we cannot say at the moment what the situation is with them.
10: 50 Running battles in Mufakose between anti riot police and residents.
10:20 Meanwhile at the courts in Harare, few interpreters and magistrates have turned up for work while some suspects and witnesses have been issued with warrants of arrests after failing to turn up for their court appearances.
10:00 A Tombs bus has been reportedly stoned at the Redcliff turn-off along BUlawayo Road and police are now at the scene clearing the road that had been barricaded with stones.
From Mufakose, George Makoni reports: There are running battles between the police and residents at Magandanga area in Mufakose.They have launched teargas ,but the residents are grouping.All schools and shops are closed and kids are excited with the demonstration,they have also joined.No combis and many people are in the streets ,a sign that most people did not go to work
09:20 Bulawayo update
Bulawayo heeds shutdown call as most shops in the central business district and high density suburbs are closed.
Commuter omnibus operators have parked their kombis.
School children have been sent back home while other schools like St Bernards in Pumula suburb locked its gates.
Choppies shops open, and in some places guarded cops.
No heavy police presence as anticipated. Soldiers doing rounds in suburbs.
09:15 Reports from Kwekwe indicate the town has come to a standstill as there are no commuter omnibuses. Those that commute from the town to work in Gweru are stranded.
In Gweru some shops are closed and business is low. An army water cannon is stationed at a Choppies Supermarket in the CBD, apparently protecting the Vice president Phelekezela Mphokon outlet.
09:00: Armed riot police presence at OK shop at Kamunhu Shopping Centre in Mabvuku. In Dzivaresekwa there are no people to board a few kombis available while armed police officer with rifles are patrolling the areas
08:45: Harare is so far in a virtual stand-still with Zimbabweans heeding a call by pro-democracy activists to stay-away in a bid to force President Robert Mugabe to find solution to the country's problems or better still for him and his Zanu PF government to resign enmasse.
A general survey by NewsDay journalists around Harare revealed that most shops and industries were closed as many people stayed home.
In Harare's High density suburbs such as Glen Norah, Mufakose, Machipisa and Mabvuku there is a heavy police presence, shops are closed and virtually no public transport.
The situation is the same in the dormitory town of Chitungwiza with most businesses closed.
However more telling for Mugabe and his administration is the fact that the informal sector a haven for Zanu PF activists has also heeded the call. Market stalls across the city are virtually empty with Mabare's Siyaso, Magaba and Mupedzanhamo also closed.
Zimbabwe share how they are experiencing the #ShutdownZim