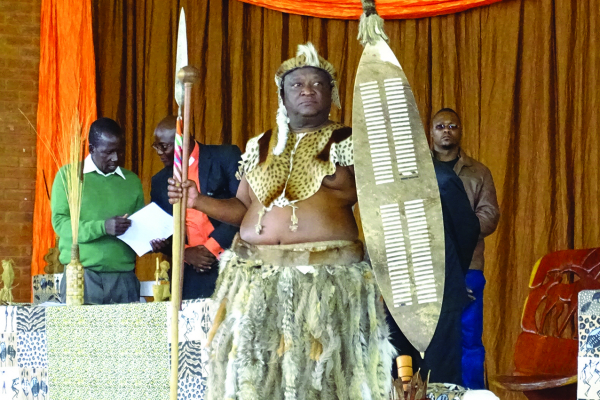 PROMINENT Bulawayo cultural activist, Peter Zwide Kalanga Khumalo, who was unveiled as King Nyamande Lobengula II at Bulawayo Amphitheatre on Saturday, pledged to improve the lives of people in Matabeleland and Midlands.
By NQOBANI NDLOVU
Khumalo said his immediate task will be to uplift the standards of living for Matabeleland and Midlands residents.
"I will work tirelessly in conjunction with [the] government to raise the standard of living for the people of Matabeleland and Midlands. The monarch will be non-partisan," he said.
Khumalo, who has been advocating for the revival of the Ndebele monarchy for years, ascended to the throne following a long and "necessary" consultative process by King Lobengula Royal House representatives.
The new king said he was going to prioritise development in Matabeleland.
"With immediate effect, the monarch embarks on establishing royal committees for development. These will work closely with relevant government ministries," he said.
The committees, which will be formed under Khumalo's kingship, include the royal committee for agriculture, education and health.
"The royal committee for agriculture will empower the chiefs and communities to help remove people from abject poverty that they find themselves in. The royal committee for health will be working again within the government framework or programmes to ensure that health issues are made a priority in this region and that the infrastructure and accessibility to health is prioritised," he said.
The new monarch said he will form a royal committee for resource mobilisation. Khumalo has also indicated his desire to engage President Emmerson Mnangagwa's administration over the restoration of Mthwakazi.
He argued the right to self-determination (restoration) of the people of the Mthwakazi is a fundamental human right that is enshrined in the United Nation's self-determination principle and as such legal at international law.
A faction of the Khumalos last year announced that South Africa-based Bulelani Collin Khumalo was king Lobengula's heir-apparent, while self-proclaimed Ndebele monarch, Stanley Raphel Khumalo was also inaugurated as Ndebele King Mzilikazi II.