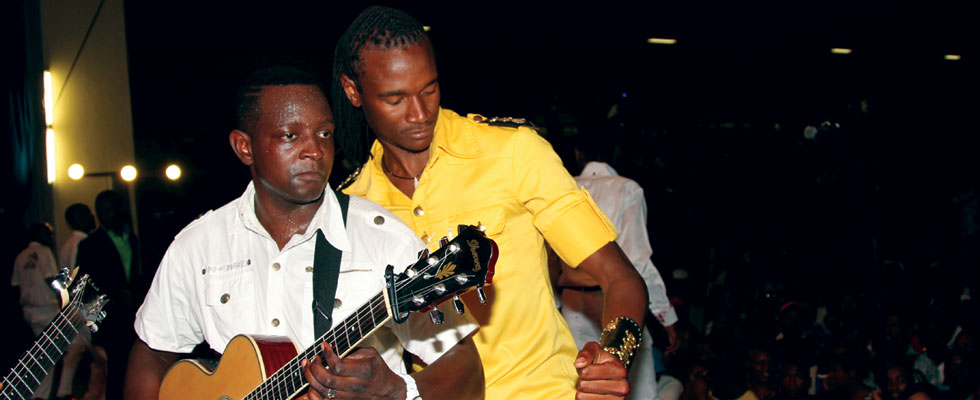 Jazz 105Tonight, Jah Prayah takes his act to the city centre At Jazz 105 before heading to Rukawo Motel in Chegutu where he will be performing on Sunday.
Young upcoming artiste, Jean Masters will take the stage before tonight's main act.
REPORT BY ENTERTAINMENT REPORTER
Book Café
Tonight in the Gochi Gochi Garden, Mbira lovers will experience the Friday Mbira with Harare's top traditional mbira ensemble, Mawungira eNharira led by the enigmatic gwenyambira, Nyamasvisva.
After the mbira show the main stage will be set ablaze by the dynamic young bassist, Josh Meck, who is back from South Africa and getting together with longtime jazz partners in The Real Deal, Blessing Muparutsa, Nick Nare, Pablo Nakappa and Jimmy Buzuzi.
On Saturday night the party continues with a collaboration of South Africa's Jeremy Loops and Dj Toby2Shoes together with local performers Chikwata 263.
On Sunday afternoon revellers will enjoy the Sunday Mix with Dj Otis Fraser together with Richard Kohola's solo jam in the Book Café Garden where a gochi gochi will be taking place
HICC
South African house outfit Liquideep will tonight perform at the Harare International Conference Centre (HICC). They will perform alongside Guspy Warrior, Shinsoman, Dhadza D, Killer T, Smylie, DJ Naida, Renailo, Taz, MMT, Simba Tags, Mudiwa and Ammara Brown.
On the turntables will be DJs Nosh and Storm alternating at intervals.
Mushandirapamwe Hotel
Dendera star Sulumani Chimbetu will tonight take the stage before taking his festive season acts to Karoi's Chikange Tavern
Chitungwiza Aquatic Complex
Over 20 both upcoming and renowned dancehall chanters will this Saturday clash at what is dubbed the Earthday Bash. Some of the acts expected to perform include Sniper Storm, Ninja Kid, RickyFire, Freeman, Dadza D and Shinso Man. Dancehall lovers can expect an ecstatic performance filled Saturday.
Vanguard Night Club, Mberengwa
All roads lead to Vanguard Night Club where Dendera musician Allan Chimbetu takes the stage before another performance at Ngenaz Night club on Saturday night. He hits the road for yet another show at Kwa Kule Tau in Shurugwi on Sunday night.
Karoi
Allan Chimbetu will continue his shows with a New Year's eve bash at Chikangwe Tavern in Karoi. On January 1, he takes his act to ZV Hotel in Kariba followed by another show on January 2 at Off Road night club in Chirundu. On January 3 he performs at 7 Million night club in Mhangura before wrapping his shows with a show at Jongwe Tavern in Chinhoyi on January 4.
Victoria Falls Farm School
On Monday the raging and rumbling of the Jameson Vic Falls Carnival will come to life at the central location of the Vic Falls Farm School. The main stage will rock out all night long with world class headliners including Mokoomba, ISO, Liver, Chris Taylor, Evicted, Just Jinjer, Ryan Dent, Craig Massiv and December Streets.
Chikwata 263, Shortstraw, Jeremy Loops, Mampi, Flash Republic, Jason Le Roux, Judgement Yard, DJ Cmbaville will set the tone for the New Year with performances at the Vic Falls Farm School on Tuesday evening.