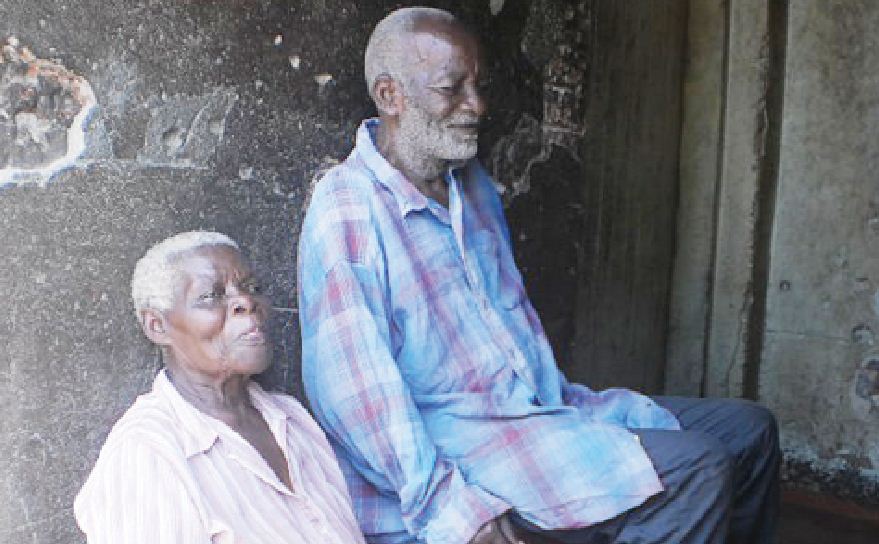 "The husband is supposed to pay to play with the beads because it is a form of seductive entertainment which helps in getting both the husband and wife aroused and aggressive in bed during sex."
___________________________________________________________________________
REPORT BY LIZZY KUTYAURIPO OWN CORRESPONDENT
Hailing from the dusty and noisy streets of Mbare, one of the oldest suburbs of Harare, Zimbabwe, Mbuya Sande hardly remembers when she was born, but claims to have been at Chitsere Primary School when the Second World War ended in 1945.
She is of Zambian origin and migrated to Zimbabwe in 1940 where she got married in 1947.
The proud mother of 12, (some of whom have passed on) and many grandchildren "that can fill up a bus", has proved to be a loyal upholder of her chinamwari, a traditional rite which she has passed down to many generations.
She says a lot of people come to her to be taught about the chinamwari tradition and they are often hired to perform their dances at kitchen parties, funerals or any women's social gatherings.
"We are even hired to teach new brides-to-be before their wedding day and we put them in boot camps which are very secluded where we teach them about our cultures and dances," Mbuya Sande says.
She says that there is more to the chinamwari tradition than just the seductive dances, adding that it also initiates young girls into womanhood shortly before menstruation and prepares them for marriage.
She caters for a broad base of clients whose ages range between 18 and 45 years.
Most of her clients are from the leafy northern suburbs who fork out $50 for individual one-week long training depending on how flexible their waists are.
"Should there be need to extend the training period, the trainee can fork out an extra fee which is subject to negotiation," she says with a smile.
Mbuya Sande and her group of six trainers also perform their dances at funerals, memorial services and kitchen parties where they charge a sum of $200. Mostly, it is at kitchen parties where their dances captivate other women.
Here, they teach and encourage married women to have sex with their husbands, to combat promiscuity.
"We teach the women how to seduce their husbands through dance," she explains, adding, "such seductive dances are sure to tempt and are a sign of pleasure and satisfaction to the husband."
She says that they do not have a specific training camp, but often use secluded places even the residence of the trainee "that is if the place is accommodative and free from men".
According to her, the chinamwari tradition has roots that can be traced back to Malawi and Zambia, while others attribute it to the Shangani tribe that is also found in parts of Zimbabwe, South Africa and Mozambique.
It teaches women about a lot of things, ranging from how to perform the famous seductive dance to taking care of their own households when they reach a mature age, personal hygiene, taking care of husbands and children.
The women are also encouraged to preserve the sacredness of their bedrooms where they are supposed to be acrobatic and active during sex, something which is said to assist a man to climax.
"These young girls are put in boot camps where they are thoroughly trained. Upon completion, they are given waist beads popularly known as mukanda as a graduation token. On her honeymoon night, the new bride is accompanied by her aunts who bring along a white cloth to be used as sheets by the newly-wed couple. Before their first sexual encounter, the groom is supposed to pay a fee to the bride who passes it on to her aunts so that he can play with her waist beads."
"The husband is supposed to pay to play with the beads because it is a form of seductive entertainment which helps in getting both the husband and wife aroused and aggressive in bed during sex," Mbuya Sande explains.
Many traditions have come and gone due to globalisation and other factors, but chinamwari has remained one of the strongest traditions that have resisted change and it is still being sought after despite the influx of Western influences.
So what is the biggest secret behind the tradition's strong endurance?
"Men have been the greatest advocators of this tradition as they seem to enjoy the chinamwari dance to such an extent that they encourage their wives to learn the tradition and out of fear for losing their husbands, most of these women agree to learn the practice," Mbuya Sande says.
She further explains that a lot of people are attracted to chinamwari at funerals mostly when they will be performing their seductive dances and as such, this has helped people, mostly women, know about chinamwari.