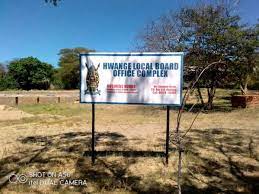 BY SILAS NKALA HWANGE Local Board (HLB) moved a gear up towards attaining town status and integrating Hwange Colliery Concessions into its jurisdiction after receiving backing from the Greater Hwange Residents Trust (GWRT).
The government has since asked GWRT to submit their position paper, while Minister of Local Government and Public Works July Moyo has in the meantime appointed a commission to assess the readiness of HLB to incorporate the Hwange Colliery Concession area as well as its suitability for an upgrade into town status.
GWRT chairperson Fidelis Chima said: "There should be a single authority in Hwange for proper administration and town planning. Government should promote popular participation and deepen association and partnership between local authorities and citizens and clarify lineof accountability and improve the allocation of resources to HLB to fully deliver the tasks and functions transferred to them, thus strengthening their function and performance."
The trust further noted that Hwange originates as one of the earliest mining settlements from the beginning of the 20th Century, adding that the Wankie Coal Concession was granted in 1901 and covered 1 921 square kilometres.
Indications are that Hwange Colliery Company assumed local authority status for its concession area although no legal provision for this exists, while the then Electricity Supply Commission (now Zesa) and the Rhodesia Railways (now NRZ) were also given similar concession areas to administer themselves.
The Trust further noted that the councillors from these concession area have been sitting in the HLB chambers and getting paid allowances, despite the fact that the local authority jurisdiction has not been formally extended to include the concession area.
HLB town secretary Ndumiso Mdlalose recently said: "It is also our view that upon incorporation of Hwange Colliery Concession Area into HLB, the Board shall be meeting most of the requirements stated in Chapter 29:15 of the Urban Councils Act First Schedule (Section 14) of being elevated to a Town Council, Municipality or even a City."
Hwange is home to five big mines and processing plants for mineral related products such as coke. The largest coal-based Power Station in Zimbabwe is also based in Hwange.
Follow us on Twitter @NewsDayZimbabwe
Related Topics