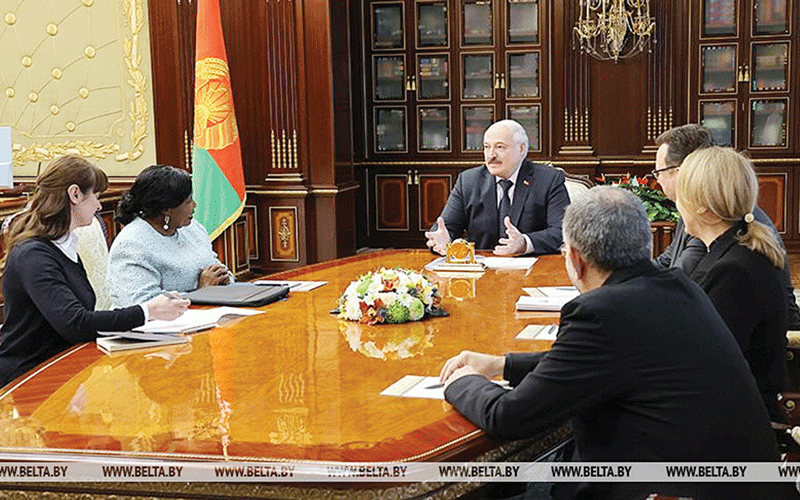 FIRST LADY Auxilia Mnangagwa last week reportedly chartered a private plane to Belarus with her sons, Collin and Sean and conducted government business during a trip which has been shrouded in secrecy.
Mnangagwa and her entourage reportedly hired a Gulfstream G550, whose average hourly rental rate is around US$10 900.
It takes an average of 10 hours to travel from Harare to Minsk, the Belarusian capital.
This means a one-way trip gobbled a staggering US$109 000.
While it could not be independently verified if the First Lady was on a private trip to Belarus, media reports from that country say she met with President Aleksandr Lukashenko to discuss government business.
First ladies do not hold official government positions under Zimbabwean law, and it's not clear under what arrangement Auxillia is conducting business on behalf of the State.
"We had a wonderful meeting with Mr President. There were no closed topics between us. I felt absolutely at home. We discussed absolutely everything. I can see now that our co-operation will move forward. He [the Belarusian president] has one important thing that we have, too. He is able and willing to work hard," the First Lady told journalists from the European country after the meeting yesterday.
Unusually, she did not travel with journalists from the State media.
Yesterday, pictures emerged of her engaged in a meeting with Lukashenko while pictures of the First Lady and her sons in the company of controversial businessman, Aleksander Zingman, meeting Belarusian Foreign Affairs minister Sergei Aleinik were posted on the Information ministry's social media pages last Friday.
Zingman was appointed honourary consul for Zimbabwe by President Emmerson Mnangagwa in 2019.
The Belarusian, through the Dubai and Minsk-based AFRTRADE DMCC, has a wide footprint across 16 African countries.
These are Angola, Zambia, Malawi, Mozambique, Tanzania, Kenya, Ethiopia, South Sudan, Chad, Sudan, Nigeria, Ghana, Togo, Burkina Faso, Sierra Leone and Zimbabwe.
In yesterday's meeting, Lukashenko was quoted as saying: "Dear Mrs Auxillia Mnangagwa, as we agreed with the President, you are in Belarus today on a very important visit. I am fulfilling the request of my friend President Emmerson so that the technologies that are in demand in Zimbabwe are in your country. We are ready to help you implement several projects at the request of your country and your president to build high-tech enterprises. First of all, this concerns humanitarian activities."
Lukashenko reportedly said during his visit to Zimbabwe, Mnangagwa asked for help in establishing a system similar to the Belarusian one in the area of maternity services, help for children, especially newborns, and child nutrition.
"In short, women and children are the priority, and Emmerson told me this many times during my visit to your country," the Belarusian leader was further quoted as saying.
He noted that Mnangagwa got familiar with the opportunities available in Belarus when he visited the southern African nation in January this year.
"The doors are open everywhere. So you are welcome to choose and decide, and we will start to act. Moreover, please tell Emmerson — he asked me to have talks in the Emirates and in Russia on the implementation of joint projects — that there was not a single refusal. These two countries, he talked about, are extremely interested in co-operation with African countries, and especially with Zimbabwe," Lukashenko further said, adding that "we need to do everything fast".
Presidential communications secretary Regis Chikowore said he could not comment on matters involving the First Lady.
"The First Lady has her own office, you can call it or talk to Charamba," he said.
But presidential spokesperson George Charamba kept saying: "Hello, hello, hello" when asked whether the First Lady's Belarus visit was official or private.
Foreign Affairs ministry spokesperson Livit Mugejo also referred all questions to the First Lady's office.
"I cannot comment on the First Lady, she has her spokesperson in her office," he said.
However, investigations by NewsDay showed that the person who was in charge of Auxilia's information department was recently transferred to the President's Office and is yet to be replaced.
According to Auxilia's itinerary, she toured the Khatyn Memorial Complex: A tribute to about three million Belarusians who died during the Great Patriotic War.
Commenting after the visit, Auxillia was quoted on the Belarusian Foreign Affairs ministry website saying: "I was shocked by the history of death of so many Belarusians, including women and children. Zimbabwe supports Belarus and condemns devastating wars. We all want peace. No more wars."
Her visit to the East European country came days after a delegation from Belarus visited Zimbabwe and met officials from the Local Government ministry over a controversial fire tenders' deal.
During the meeting, the two sides discussed setting up of a fire-fighting training centre in Zimbabwe and equipping Zimbabwean fire-fighting units with Belarus-made suits and gear.
The Zimbabwe government is forging ahead with its plans to import 131 fire tenders at US$464 296 each from Belarus, a deal that have been described by local councils as daylight robbery.
Similar vehicles cost less than US$30 000 in other countries like China.
A 4 000-litre medium six-wheel fire truck costs around US$26 000 in Malaysia, while a foam fire-fighting truck costs between US$26 000 and US$28 000 in China.
In a communiqué to town clerks, council secretaries and chief executive officers dated June 14 last year, Local Government secretary Zvinechimwe Churu said each rural local authority would get one fire tender, urban councils two each and metropolitans three.
Related Topics