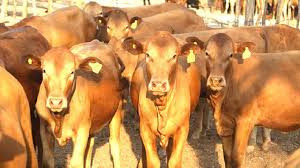 FARMERS around the Fort Rixon area in Matabeleland South province, who are losing heads of cattle to the January disease, have appealed for urgent government intervention.
January disease, officially known as Theileriosis, is a severe sickness transmitted in livestock by ticks. Theileriosis tends to be encountered in January when the rainfall activity is high, hence the name, January disease.
Some villagers have reportedly lost up to 50 beasts or more per household, while cattle buyers are reportedly cashing in on the desperate farmers who are disposing of their animals for a song fearing total loss.
Matabeleland South Veterinary head Enart Mdlongwa confirmed the deaths, citing the failure by farmers to dip their cattle as well as controlling the illegal movement of animals for the surge in cattle deaths.
"The problem has been from last year and we are in the area. People were not taking heed and they started losing animals. We had teams on the ground and we are deploying some more to attend to the problem," Mdlongwa said.
"We tried to educate people on the dangers of not dipping cattle, but they did not listen. This problem is not new. It has just resurfaced on a larger scale," Mdlongwa said on Sunday.
In social media posts, Fort Rixon villagers reported massive deaths, saying some farmers were disposing of cattle for as little as $200 to at least get something.
Ordinarily, a beast in the area fetches as much as US$500 to US$700.
"People are trying to salvage something," posted one villager.
Fort Rixon lies about 80 kilometres northeast of Bulawayo and is predominantly cattle ranching and gold mining country.
Follow us on Twitter @NewsDayZimbabwe
Related Topics