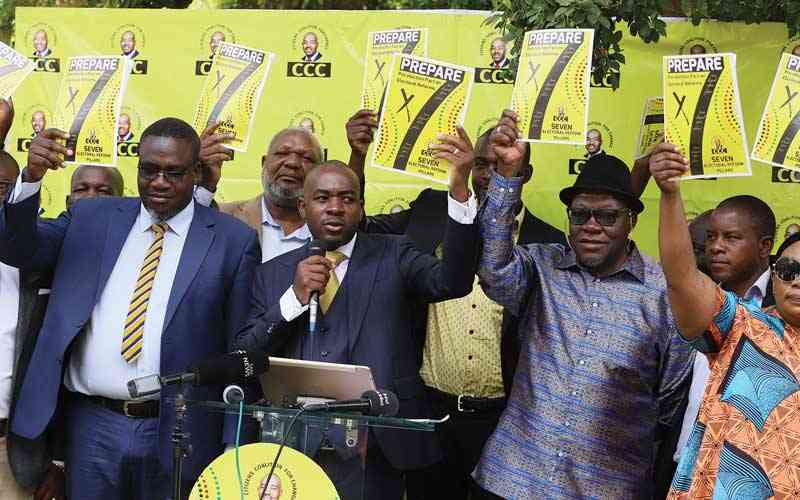 CITIZENS Coalition for Change (CCC) yesterday launched a seven-pillar electoral blueprint that includes the release of an audited voters roll ahead of the 2023 elections.
Launching the blueprint titled Pre-election Pact on Electoral Reforms (PREPARE), CCC leader Nelson Chamisa said he would accept election results if the party's demands were met.
"The voters roll to be used on the election day must be authenticated and signed off by all contesting parties, candidates or their designated agents. Let us agree on an audited voters roll that is the case in the region. We don't want an unaudited voters roll that changes everyday," Chamisa said.
"If Mnangagwa (President Emmerson) wins that election I will be the first one to congratulate him and I will happily accept. What I will not accept is that people of Zimbabwe vote for me and Mnangagwa says come and play to my tune."
Independent election observers made a number of recommendations after the disputed 2018 elections, but there has been little movement towards implementation.
Election watchdogs said there was no political will to implement the recommendations.
Chamisa said the CCC electoral blueprint would be submitted to the Zimbabwe Electoral Commission (Zec) and the Southern African Development Community to lobby for implementation of their recommendations.
"This document is our humble submission on the discourse on what needs to be corrected. It's a product of wide consultations with the citizens. We have listened to the voices of war veterans, students, trade unions, traditional leaders and the church," Chamisa said.
"The 2018 election observer missions and all other critical election bodies have shared this perspective on electoral reforms. It's unfortunate that as it currently pertains, insufficient work has been done."
Zimbabwe Election Advocacy Trust director Ignatius Sadziwa told NewsDay that most of the proposed reforms could easily be implemented by Zec if there was political will.
"Most of the reforms being proposed by CCC are more administrative rather than legislative which Zec must simply implement with ease," Sadziwa said.
"As a product of elections, it (Parliament) was supposed to take a leading role in addressing some of our electoral problems unfortunately its term is nearing end without any meaningful reforms."
Election Resource Centre programmes manager Solomon Bobosibunu weighed in saying the electoral reforms can still be implemented ahead of the 2023 polls.
Related Topics