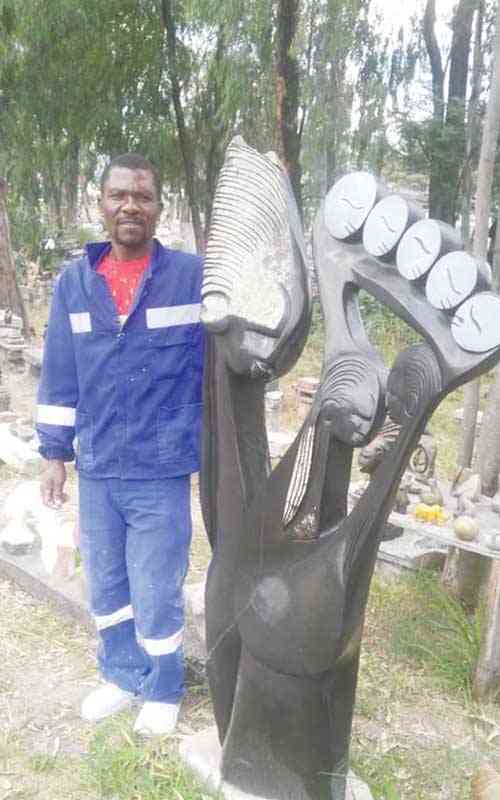 CHARLES MANYAURA has credited the late veteran artist Lameck Bonjisi for mentorship to become the sculptor he is today.
Manyaura joined the visual arts industry in 2001 under the close eye of Bonjisi before he was weaned off in 2004, as he could work on his own with little consultation.
Manyaura said his National Arts Merit Award-nominated Life is a Journey monument, which is a springstone monument, was a symbol of growth and development.
"Life is a Journey reflects on my own upbringing. The three people here are symbols of generations migrating to their final land of destiny while the footprints show distance travelled and the need to take a deserved rest," he told NewsDay Life & Style.
The piece triggers mind-sets to teaching processes and accept the reality that a person does not grow in one day.
Manyaura drew inspiration from several merriments which are characterised by dancing and movement in response to music.
His Dancers monument, which is highly asymmetrical and yet well balanced, signifies a lot of things that one can experience and imagine about dance.
"The Dancers sculpture is a group of people in a festive mood. The celebration is just to create a moment of relief after some months of hard work.
"Dance is part of our culture and everybody, whether naturally good or learning, enjoys dancing. The Dance sculpture is calling on everybody to load off stress through dance," he said.
Manyaura notes that the Mother and Daughter piece is a green opal carving creation with lots of abstract expressions. The two are in dialogue about life issues.
The carving, in a way, echoes the same sentiments as Life is a Journey piece.
"Visual art is a rewarding business which comes with a lot of challenges caused by the current slow market. The world loves Zimbabwean art because it is a true expression of our own identity," he noted.
"I have huge stocks of art displayed in our Tsindi Gallery garden with the hope that tourists will come in their good numbers and take the beautiful art back to their homes."
Related Topics